Global Screen is to handle international sales on a reboot of the successful German Hanni & Nanni franchise based on Enid Blyton's classic St Clare's book series.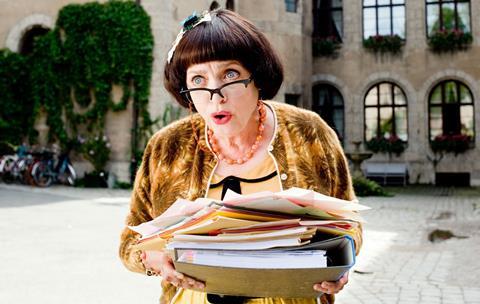 The latest adventures of the twins Hanni and Nanni Sullivan at the boarding school Lindenhof have been co-written by Katrin Milhahn and Antonia Rothe-Liermann, who previously collaborated on children's film Ente gut! Mädchen allein zu Haus.
The $5.2m (€4.6m) German language production by UFA Fiction with Hermann Florin's Feine Filme, which will be distributed theatrically in Germany, Austria and Switzerland by Universal Pictures International, is being directed by Babelsberg Film University graduate Isabelle Suba, who made her feature debut in 2014 with the satire Men Show Films and Women Their Breasts.
"It has been our policy on the Hanni & Nanni films to give newcomers an opportunity to direct these films," Florin explained. "That's why we had Christine Hartmann for the first film, Julia von Heinz for the second, and Dagmar Seume for the third one."
He added that von Heinz had put him and UFA Fiction's Sebastian Werninger on to Suba as a potential director for the latest outing by telling them that she was a great Hanni & Nanni fan.
Coming three years after the last Hanni & Nanni film was released in the cinemas in 2003, the new film is set to differ from its predecessors in having a new, more contemporary look with unusual camera angles and featuring musical interludes as well as songs specially composed by the German country rock band The BossHoss who are also cast in two roles.
Two new discoveries – twins Laila and Rosa Meinecke – were cast in the title roles, with adult parts taken by Jessica Schwarz, Maria Schrader, Henry Hübchen and Julia Koschitz.
Katharina Thalbach as the eccentric French teacher Madame Bertoux is the only character from the previous three Hanni & Nanni films to reappear in the new production, which had reached halfway point in shooting in Berlin this week.
UFA Fiction's predecessor Ufa Cinema and Feine Filme had previously collaborated on Julia von Heinz's successful adaptation of Hape Kerkeling's bestseller Ich bin dann mal weg, which was released by Warner Bros. last Christmas and seen by more than 2 million cinema-goers in Germany.
The production partners are now preparing a further two joint productions for shooting in 2017: an adaptation of Frank Goosen's cult novel So viel Zeit and another collaboration with Kerkeling on his bestseller autobiography Der junge muss an die frische Luft.
In addition, Florin Film KG, Florin's production arm focussing on international co-productions, is developing the project Katte, to be directed by Züli Aladag, from an award-winning screenplay by Johannes Reben.
The drama centres on the love story between the 18-year-old Prince Fritz, later known as Frederick The Great, and Baron von Katte, an officer of the Prussian gens d'armes, which ended brutally on November 6, 1730 with the baron being beheaded as a death penalty in the presence of his young lover.