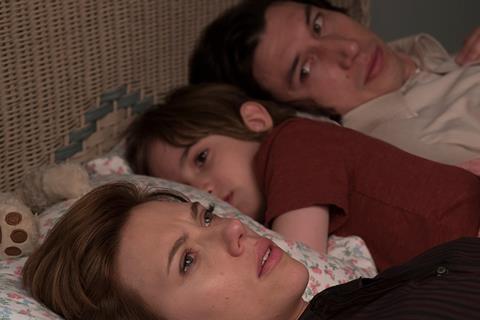 Monday's Golden Globe nominations has predictably got tongues wagging. Here we highlight six of the key talking points to emerge from the film categories.
The 77th Golden Globe Award will take place in Hollywood on January 5, 2020.
Netflix leads the field – and awards season
Netflix emerged as the dominant distributor on Monday with 17 film nominations in all, earning its first ever Golden Globes best film nominations – four in fact – and extending a rich vein of form that has seen the streaming giant and its films claim the lion's share of Gotham Awards and Sunday's Critics' Choice nominations, and impress in the National Board of Review and New York Film Critics Circle votes. The company is pulling out all the stops in its quest for major best film wins and has set out its store with three nominations in the drama category – The Irishman, Marriage Story, and The Two Popes – and one in musical or comedy in the shape of Dolemite Is My Name. The Irishman and Marriage Story are clearly emerging as two of the biggest – if not the two biggest – film contenders of the season. Winning a best film award in either or both Golden Globes categories would be a big statement as Netflix rumbles on towards the Oscars in its hopes of winning the big one.
Female filmmakers mostly shut out
This has been a season when talented female filmmakers have once again made a noise, and once again there is nothing to show for it in the key directing and writing categories. Greta Gerwig's version of Little Women has won admirers within Hollywood and she is a superstar prestige filmmaker on the rise. However the HFPA did not recognise her with a directing or writing nod. Also baffling is the lack of any recognition for another emerging heavyweight filmmaking voice, Marielle Heller, for A Beautiful Day In The Neighborhood. The HFPA also overlooked Lulu Wang for The Farewell, and Lorene Scafaria for Hustlers. That said, female filmmakers did earn nominations in other categories: Lulu Wang's The Farewell and Céline Sciamma for Portrait Of A Lady On Fire are among the foreign language contenders, and Jennifer Lee is a co-director on Frozen 2 in the animation contest.
No acting nods for Robert De Niro, Adam Sandler, Lupita Nyong'o
Robert De Niro impressed in Martin Scorsese's The Irishman and delivered arguably one of the finest performances of his later career, yet there was no room at the inn. So far this season he has been nominated for a Critics' Choice Award and appears to have been edged out here by Christian Bale from Ford v Ferrari. Adam Sandler, lauded by critics for what many view as the best work he has ever done in drama contender Uncut Gems, did not get on the list either as the film itself was a complete no-show. Lupita Nyong'o enjoys a strong following in Hollywood yet despite her best actress award from the New York Films Critics Circle for Us last week, she was nowhere to be seen among the dramatic actress nominees on Monday and must wait at least another year for her second Golden Globe nomination (following a nod in 2014 for 12 Years A Slave).
Noah Baumbach misses the cut for Marriage Story
While Marriage Story ended up with the most nominations for any film on the day – six – there was no directing recognition for the man who created the film. Noah Baumbach has been hailed for his defining divorce saga that some regard as his finest work, yet he was unable to squeeze into the list of directing nominees. (He did earn a screenwriting nod.) Some may point to Parasite's Bong Joon ho as the surprise inclusion in a list of predictable heavyweights like Martin Scorsese, Quentin Tarantino, Sam Mendes and Todd Phillips, who has delivered in Joker the film of his career so far, however Bong is a master who can hold his own against anybody and his place on the list is entirely justified. This is an extremely strong year for directors and the margins could be close, so it may not be a surprise were Academy voters to show Baumbach some love in the directing category when the Oscar nominations are announced in January.
France earns two nominations in foreign language category
Both Les Misérables and Portrait of A Lady On Fire are in the mix for best foreign language film, which demonstrates the foibles of the HFPA's voting rules. Unlike the Oscars, two films from a single country can earn nominations in the category, and the last time this happened was in 2017 when eventual winner Elle from France was nominated alongside Divines. Once again, the season has thrown up a number of exceptionally strong French contenders.
Cats barely makes a squeak
In an ominous sign for Working Title / Amblin / Universal's big budget musical, the HFPA virtually shut out Tom Hooper's Cats, which earned a single nod for 'Beautiful Ghosts' in the original song category. It is understood the film screened last week for voters and not every one got to see it, nonetheless the Golden Globes is the kind of forum where an all-star musical like this might have been expected to shine, and clearly those voters who did see it did not like what they saw. There can be discrepancies between the HFPA and Academy votes, however on this no-show, the studio machine has a lot of work ahead if the film is to register at the Oscars.