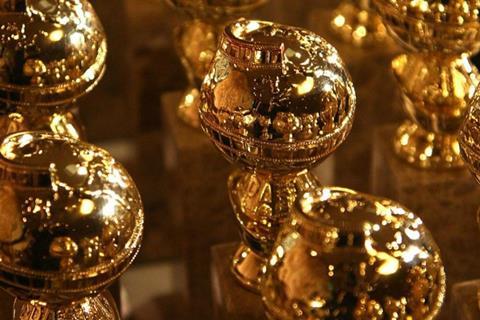 The beleaguered Hollywood Foreign Press Association (HFPA) has revealed plans for the 79th Golden Globe Awards ceremony this Sunday (January 9), which will take place without an audience and highlight the group's philanthropy work as well as revealing Globe winners from the recently announced list of nominees.
The ceremony will take place at Los Angeles' Beverly Hilton hotel, the usual venue for the normally lively event, but will not be televised by the group's longtime broadcast partner NBC.
NBC pulled out of this year's show after the Los Angeles Times expose of the HFPA in February last year.
Because of the current Covid surge – and in the wake of an industry push for HFPA reforms over diversity of membership and other issues – only select Association members and representatives of groups that have received Association grants will be in attendance.
Those who are present will have to provide proof of vaccination and booster as well as a negative PCR test within 48 hours. Guests will have to be masked and socially distanced and there will be no red carpet or outside press at the event.
The ceremony will include a presentation about the 'Reimagine Coalition,' a five-year initiative between the HFPA and the NAACP Hollywood designed, according to an HFPA statement, "to increase diversity, equity and inclusion across the global entertainment industry."
According to the statement, over the past year the HFPA has "completely overhauled its bylaws, implementing sweeping changes from top to bottom addressing ethics and code of conduct, diversity, equity and inclusion, governance, membership and more."