Buzzy pitches from rising Nordic talents include Iranian serial killer story and documentary about con man Waleed Ahmed [pictured], once described as the Mark Zuckerberg of Norway.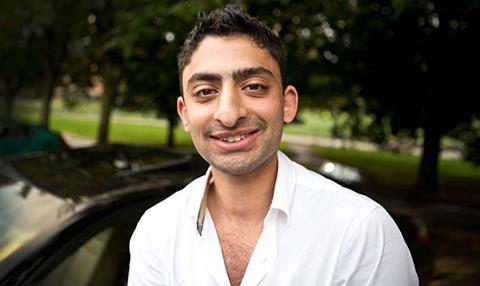 A diverse crop of projects were pitched in Goteborg today [Feb 5] as part of the Nordic Film Lab, including an Iranian serial killer story and documentary about con man Waleed Ahmed [pictured], once described as the Mark Zuckerberg of Norway.
The projects, which are pitched at development stage and need financiers or co-producers, are listed below.
The pitches are the culmination of a year-long programme and included Finnish participants for the first time this year, alongside those from Norway, Sweden and Denmark.
Projects:
The Holy Spider (Den), dir Ali Abbasi, prod Jonas Wagner
Iran-born, Denmark-based Abbasi will direct this feature inspired by the true story of Saeed Hanaei, who he calls "the most infamous serial killer in Iran's recent history." Abbasi added, "We'll see the world through his eyes and try to understand how you can be a person to commit such a crime…It's also about the moral and political implications of what he did," said Abbasi. "It's also about the victims side of the story as well. These women, and the systematic way that society that to deprive them of dignity and human rights. That's the background for the whole thing that happens." Abbasi is doing research for the film now, including a trip to the Iranian city of Mashhad, and the first draft of the script will be ready "in a couple of months." Meanwhile, Abassi's buzzy horror debut Shelley will premiere in Berlin's Panorama.
Psychosis in Stockholm (Swe), dir Maria Back, prod Anna-Maria Kantarius, prod co Garagefilm
Back, who has striking feature documentary I Remember When I Die competing in Goteborg, turns to a very personal story for her next project. The film recalls a time when the filmmaker was 14 years old and went on a trip with her mother, who had a psychotic break. "I want to show something rarely seen in a film, about psychosis," she said. "I want to tell a story on this taboo topic and I want to question our views on reality. It's a personal film and yet it is universal. It's the link between the brain and the galaxies."
The Charmer (Den), dir Milad Alami, prod Stinna Lassen, prod co Good Company Films
This feature is about "an Iranian man in his mid 30s as he takes advantage of his exotic features to climb the social ladder, but the higher he climbs the more he feels like he is falling down," Alami said. A young Iranian woman introduces him to his cultural roots. "It's a deeply character-driven film, a drama thriller, it deals with race, class, exoticism and existential search for belonging," added Alami. The film is now casting and it will offer non-cliched roles for persons of colour, he noted. The film will start shooting this summer, and the Danish Film Institute is backing through New Danish Screen.
Shield (Swe/Lith/Den), dir Ellen Fiske, prod Tomas Smulkis
This documentary will look at the stories of Lithuanian immigrants in Norway who have seen children taken into care by the country's child protection agency, Barnevernet. Fiske said, "This is a really big thing at the moment and there have been a lot of protests both in Norway and Lithuania. Meanwhile Barnevernet says it is acting in the best interest of the kids." The film will show families going through the process as well as interviews with representatives from the agency.
The Chauffer (Swe), wr/prod Mistre Tesfaye, co-wr Arvin Kananian prod co Woosha Film
This feature, which is at script stage without a director attached yet, is set in Addis Ababa, Ethiopia, which Kananian said is "now one of the fastest growing cities in the world." The pair did a research trip there in January and he said it allowed them to "experience this extremely fast growing economy first hand…There is more wealth and money floating around than ever before, but this money is not always clean.
The film is about corruption in an economy of this, and the psychology behind corruption."
Boys on a Train (Den/Fin) dirs Petri Lukkainen, Thomas Daneskov, prod Kistine Barfod, prod co Danish Documentary Production
This feature documentary will follow a group of six British teenage boys on a rail trip across Europe this summer. As Daneskov, who previously directed The Elite, said, "What defined me the most was the friends I grew up with, the group of friends I was surrounded by when I was 16 to 18. Every group of young kids have their own moral code, their own language, their own humour. Petri and I wanted to put this group of boys under a microscope." It will also reflect the digital world that kids grow up in – where Facebook likes are catalogued. Lukkainen added, "We want to focus on the boys, the friends, the group dynamics." The project is still in the early stages of finance and seeking a Swedish or Norwegian producer to join.
The Distant Barking of Dogs (Den), dir Simon Lereng Wilmont, prod Monica Hellstrom, prod co Final Cut For Real
This feature documentary is about a boy and his grandmother living in Eastern Ukraine. The film is now in early development. "I would like to explore how a daily life can be lived even though there are grenades flying over your head, and soldiers are taking over your city," Wilmont said. "I would also like to explore the relationship between Oleg and his beloved grandmother." The team has already taken two filming trips to Ukraine but plans to follow the family for another year.
The Waleed Ahmed Story (Nor), dir Emil Trier, prod Natalya Sarch, prod co Motlys
This feature documentary, Trier's feature length debut after directing popular music videos, will tell the story of the titular con man, a young Norwegian man who was once called the Mark Zuckerberg of Norway before his lies were uncovered. "[Trier] is incredible at depicting youth culture," Sarch said. "We will do interviews with his entire network, people he scammed, people he knew growing up…and also meet the man himself and see how he portrays himself. It's an incredible story. We'll dig deep into the psychology of it, how do you start scamming?" Ahmed is now in prison in the US but will be interviewed this summer.