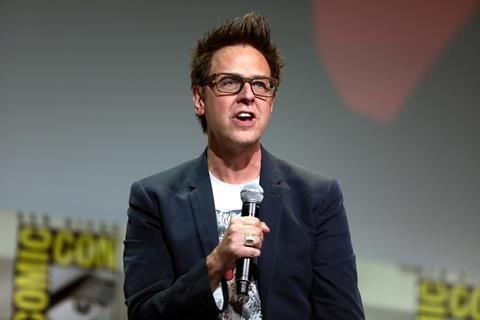 Many Guardians Of The Galaxy fans and several members of the film's cast have criticised the dramatic sacking of director James Gunn over the weekend.
Gunn, who directed the first two Guardians, was removed from Guardians Of The Galaxy Vol. 3 after several offensive social media posts, some of which included jokes about rape and paedophilia, resurfaced on Friday (20 July).
Since then more than 155,000 people have already signed a change.org petition calling for him to be reinstated. The petition was shared by Hellboy actress Selma Blair, who wrote on Twitter:
Marvel: RE-HIRE JAMES GUNN - Sign the Petition! https://t.co/JeVbFZkQLL via @Change. Because if people are punished despite changing, then what does that teach people about owning mistakes and evolving? This man is one of the good ones.

— Selma Blair (@SelmaBlair) July 22, 2018
Gunn's tweets were unearthed by Conservative news site The Daily Caller and right-wing commentators Jack Posobiec and Mike Cernovich.
Guardians Of The Galaxy 3 was set for release in 2020 according to Gunn (although the date had not been officially confirmed).
Dave Bautista, who plays Drax the Destroyer in the franchise, has tweeted several messages of support for Gunn and called the developments a "#cybernazi attack that succeeded" on Sunday.
What happened here is so much bigger then G3, @JamesGunn,myself,@Disney etc. This was a #cybernazi attack that succeeded. Unless we start to unite together against this crap, whether people are offended are not! …it's going to get much worse. And it can happen to anyone https://t.co/AMZEd0tfqb

— Dave Bautista (@DaveBautista) July 22, 2018
Michael Rooker – Yondu in the films – quit Twitter in protest at the news. His twitter bio now says his "account is no longer active" and that he "will not return" to the social media platform.
2/2
This account will be inactive after today. We're very tired & upset over the ongoing BULLSHIT… neither I nor my rep will use Twitter again. Twitter sucks and I want nothing to do with it.

Thank you to all who gave kind words & support. See you on Instagram.
- MR pic.twitter.com/uAyIOPoAle

— MichaelRookerOnline (@RookerOnline) July 22, 2018
Gunn's brother Sean, who was motion-captured as Rocket Raccoon in the films, said: "Since devoting his entire life to the Guardians movies and MCU six years ago, I've seen him channel that voice into his work on those movies and seen him transform from the guy who made up things to shock people." He added: "Working on those movies made my brother a better person, and they made me one too. I'm proud of that."
Chris Pratt, who play Peter Quill in the films, responded by tweeting out a bible verse about forgiveness.
"Understand this, my dear brothers and sisters. Let every person be quick to listen, slow to speak, slow to anger."

JAMES 1:19
🙏♥️

— chris pratt (@prattprattpratt) July 22, 2018
His co-star Zoe Saldana added: "I just want everyone to know I love ALL members of my GOTG family. Always will."
It's been a challenging weekend I'm not gonna lie. I'm pausing myself to take everything in before I speak out of term. I just want everyone to know I love ALL members of my GOTG family. Always will.

— Zoe Saldana (@zoesaldana) July 22, 2018
"Indefensible"
Walt Disney Studios Chairman Alan Horn announced Gunn's sacking on Friday, saying in a statement:
"The offensive attitudes and statements discovered on James' Twitter feed are indefensible. [They are] inconsistent with our studio's values, and we have severed our business relationship with him."
Gunn released a statement over the weekend saying he "understood the business decision" taken by Disney.
He said: "Regardless of how much time has passed, I understand and accept the business decisions taken today," he said. "Even these many years later, I take full responsibility for the way I conducted myself then. All I can do now, beyond offering my sincere and heartfelt regret, is to be the best human being I can be: accepting, understanding, committed to equality, and far more thoughtful about my public statements and my obligations to our public discourse. To everyone inside my industry and beyond, I again offer my deepest apologies. Love to all."