Marvel Studios tentpole heads into third weekend, while Alien: Covenant debuts in 33 territories.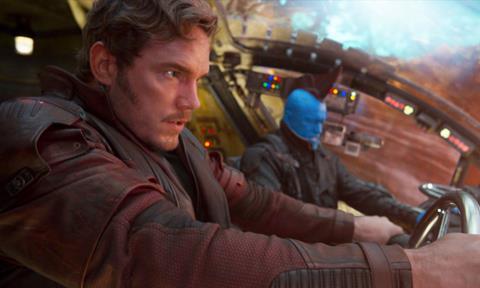 Marvel Studios' Guardians Of The Galaxy Vol. 2 has reached $325.8m through Walt Disney Studios Motion Pictures International after adding $11.2m on Wednesday.
Combined with $175.9m from North America, the film has reached $501.7m worldwide.
China is the superhero tentpole's top market on $62.2m, followed by the UK on $37.9m, while Germany has generated $19.9m.
Russia has reached $18.8m, Australia $18.2, France $17.9m, and Mexico $15.8m.
Brazil has generated $15.7m, South Korea $15.6m, Spain $7.6m, Italy $6.9m, Indonesia $6.7m, the Philippines $5.4m, and Thailand $4.8m.
James Gunn's reprisal as director, as well as the returining cast of Chris Pratt, Zoe Saldana, Dave Bautista, Vin Diesel, Bradley Cooper, Karen Gillan, and Michael Rooker, will debut in Japan this weekend.
Beauty And The Beast has amassed $703.6m at the international box office, while Moana has reached $393.3m.
Fox International's latest tentpole Alien: Covenant rolls into 33 territories including the United Kingdom, Australia, Brazil and Mexico.
Ridley Scott's latest instalment in the Alien franchise stars Michael Fassbender, Katherine Waterson and Billy Crudup and opens in North America on May 19.
Also from Fox International, Amy Schumer and Goldie Hawn-led action-comedy Snatched opens in 10 territories including Australia.
Hidden Figures has generated $60.2m internationally, while Gifted stands at $1.6m and opens in two.
Universal Pictures International's The Fate Of The Furious has reached $962.6m. The action thriller currently stands at $1.166bn worldwide.
The tentpole directed by F. Gary Gray's is Universal's fifth title to cross $1bn worldwide and has exceeded the lifetime performances of the first six Fast And Furious films.
Jordan Peele's Get Out starring Daniel Kaluuya has generated $34.1m and heads into five territories this week including Russia.
Meanwhile, M. Night Shyamalan's Split and Kenneth Lonergan's Manchester By The Sea will each debut in Japan through Universal Pictures International.
Dreamworks Animation's The Boss Baby currently stands at $281.8m and has exceeded $435m worldwide, while Logan has amassed $381.3m. The Boss Baby is completely opened and Logan has one territory left to open through Fox International.
Warner Bros Pictures International's heist comedy Going In Style has reached $31.2m.
Guy Ritchie's action-adventure King Arthur: Legend Of The Sword stands at $1.5m and opens in five markets this weekend day-and-date with North America including China, Germany and Russia. Charlie Hunnam stars as the titular character alongside Astrid Bergès-Frisbey, Jude Law and Djimon Hounsou.
Legendary and Warner Bros' Kong: Skull Island stands at $398.1m, while The LEGO Batman Movie stands at $135m.
Rosario Dawson and Katherine Heigl starrer Unforgettable has $4m.
Lionsgate International's Power Rangers has reached $50.7m and debuts in China this week. Mark Wahlberg starrer Patriots Day has grossed $16m and opens in Brazil.
Paramount Pictures International sci-fi action film Ghost In The Shell has grossed $126.9m.