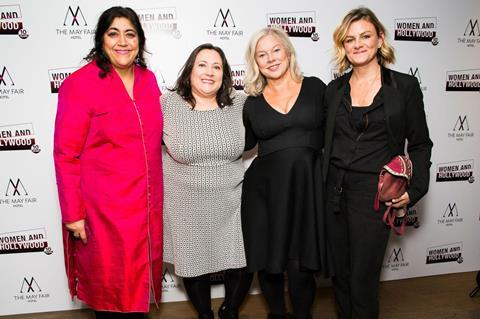 Gurinder Chadha has put herself forward as a potential director in the Star Wars universe, she told the packed audience at the Woman and Hollywood event in London last night.
In a very personal speech, Chadha spoke about earlier this year feeling depressed that it was still hard to finance her films, as a woman of colour, even after a global hit like Bend It Like Beckham.
"I was very depressed. Why am I the only Asian woman director in Britain that has to talk about diversity? So I emailed [Lucasfilm president] Kathleen Kennedy and said, 'Why can't I direct a Star Wars movie?'"
She had a meeting with Kennedy, who Chadha says "sorted me out in that moment. She said, 'Stop thinking like that, you've got to think like this. Pull yourself together.'"
There is no word yet if Chadha will collaborate with Lucasfilm in the future, though a hashtag on Twitter last night suggested #gurinderforstarwars.
Other Trailblazer award winners included Zelda Perkins, who worked as Harvey Weinstein's assistant in London in the early 1990s and bravely broke her non-disclosure agreement this year to expose his history of sexual assault and harrassment.
After receiving a standing ovation, she said: "Nineteen years ago I gave up a job to protect another woman. Nineteen years ago, I had total faith that because I had right on my side this was the normal thing to do and the offender would be exposed. Nineteen years ago, I discovered the system was as immoral as the one it illegally protected. The most shocking revelation is that this system still exists. It's sad and astonishing to be recognised for seeking a safe work environment."
At the May Fair Hotel in London, Women and Hollywood continued its 10th anniversary celebrations, following similar events in New York and Los Angeles.
Melissa Silverstein, who founded Women and Hollywood as a website and activist organisation, kicked off the evening by saying that the current sexual harassment allegations are creating "a real opportunity for systemic change. Now is the time to push for meaningful change… we are living the revolution, let's make it count."
The organisation presented seven trailblazer awards in London. These are the honorees and highlights of their remarks:
Elizabeth Karlsen, producer
"I want the film and TV world to represent the world we live in, more than 50% of the population on women… Women are speaking out and more important they are being listened to."
Corrina Antrobus and Simran Hans, Bechdel Test Fest
Antrobus: "We want to prove that female-led cinema can fill cinemas… If you've managed to get a seat at the table, pass down the hot sauce!"
Hans: "If there's one thing that we've learned in the past three to four years, it's that it takes a fucking village."
Clare Stewart, director, BFI London Film Festival
"I'm proud to work to work for an organisation that puts diversity front and centre in what we seek to achieve… It drives me bonkers when I hear those male festival directors for other European and international festivals talk about 'We would programme the films if the films were there.' Well, open your bloody eyes!"
Zelda Perkins, producer and former assistant to Harvey Weinstein
"I celebrate the ferocity of the last month's events, it shows our voices. Insist on meaningful change. In future I hope that a single voice will be heard."
Alison Owen, producer
"For the first time in my memory and in the field of feminism, women are being believed and that is a huge, huge turning point."
Gurinder Chadha, director
"We can't look to other people (men) for our successes and our value. We do want to see our stories. We want to see life as it is. We have daughters and sisters and nieces and we owe it to them to say, 'Don't accept the lower rate as a woman. You can be the Wonder Woman, you can direct Star Wars…' If we start demanding through a strategic manner and build on this amazing energy happening around us as women, we need to come up with our strategies, we need to come up with our female version of Netflix, our female studios. We have to do it, nobody is going to do it for us."
The event also screened the London winners of its First-Time Female Filmmaker Contest: Marnie Paxton-Harris' Annie Waits (winner) and Meg Campbell's Present (runner up).