The winners of the 2017 Hong Kong Asia Film Financing Forum have been announced.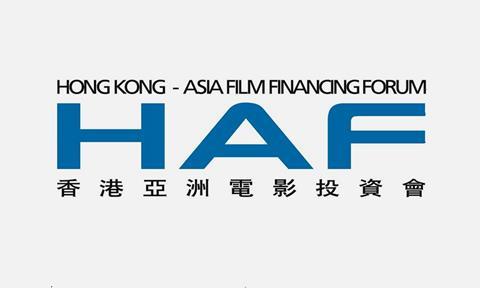 Tommy Tom Chung-sing's Impossible Split was presented with the HAF Award for a Hong Kong project at the close of this year's Hong Kong Asia Film Financing Forum (HAF, March 13-15).
NARAtive Film 2017-2018, to be directed by Iranian filmmaker Ida Panahandeh and produced by Japan's Naomi Kawase, won the HAF Award for a non-Hong Kong project. Both awards come with a cash prize of $19,000 (HK$150,000).
Impossible Split, produced by Hong Kong director Adam Wong (The Way We Dance), is based on the true story of Hong Kong bowling athlete Wu Siu-hong, who was diagnosed with cancer at the age of 30. Panahandeh's project is a contemporary Shakespeare adaptation with a female character in a main role.
The iQiyi award, presented by the Beijing-based streaming platform, went to Yang Long's The Patient, produced by Zhou Jia. The project, about a Chinese teenager being treated for internet addiction, received a cash award of $12,900 (HK$100,000).
The mm2 award, which also came with a cash prize of $12,900 (HK$100,000), went to Hong Kong filmmakers Kenneth Lai Siu-kwan and Paul Sze Pak-lam's Forget You, Still Love You? mm2 Entertainment is a Singapore-based producer and distributor, which unveiled its new slate at Filmart.
The $10,000 HAF/FOX Project Award, which aims to encourage the development of Chinese-language cinema, went to Danlly Li's Drifting Lives, produced by Ray Chan.
Singapore filmmaker M. Raihan Halim's La Luna picked up two awards – the Wouter Barendrecht Award of $6,400 (HK$50,000) and the White Light Post-production Award for a HAF project, which came with $15,000 worth of post-production services from White Light's Bangkok facility.
White Light also gave an award of the same value to a project in HAF's inaugural Works-in-Progress Lab – Indian filmmaker Rima Das' Village Rockstars, about a young girl forming a rock band in a remote Assamese village.
Bangkok-based post house G2D also gave two in-kind awards, each worth $15,000, to Honey B Singh's Singapore-Canadian co-production I Am A Banana!, which was selected for HAF, and Vietnamese filmmaker Nguyen Phuong Anh's The Third Wife, in the Works-in-Progress Lab.
The Wutianming Post-production Award, for in-kind post services worth $44,000 (RMB300,000), went to Degen Yun's Rainbow Mountain, produced by Zhang Yang. Wanda's award for a project in the WIP Lab, which came with a $12,900 (HK$100,000) cash prize, went to Jay Chern's Taiwan-Japan co-production Omotenashi.
The Paris Co-production Village Award, which covers cost of Euros4,000 towards the project attending the Paris co-production event, was presented to Nakano Ryota's The Asadas, produced by Ogawa Shinji.
Miyake Kyoko's Femme Fatale, produced by Guillaume De Seille, picked up the Network of Asian Fantastic Films (NAFF) Award, which covers expenses of $2,700 towards attending the NAFF projects market in Bucheon, South Korea.