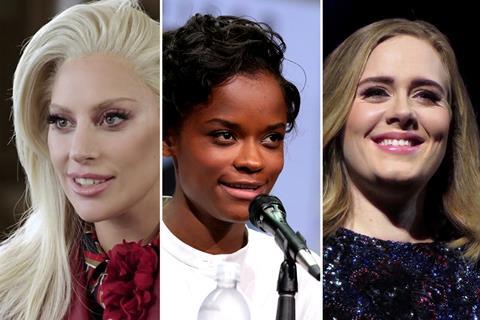 The Academy has invited 842 people from 59 countries – half of them women – including Lady Gaga, Adele, and Black Panther star Letitia Wright, to join the ranks in 2019.
Potential new members include Jamie Bell, Claes Bang, Andrea Riseborough, Peter Mullan, and directors Matteo Garrone, Jennifer Kent and Mélanie Laurent, as well as Hollywood filmmakers Phil Lord and Chris Miller.
Not every one of the 842 may choose to join the Academy, although based on recent years, the acceptance rate is in the high 90% range. Besides women accounting for 50% of the new invitees, the Academy said on Monday (July 1) that were every invitee to join it would boost overall membership of women from 25% in 2015 to 32% in 2019.
The Academy will publish official membership numbers in the autumn. Based on Academy membership numbers as of December 17 2018, were everyone to accept their invitation, the Academy's total membership including active, voting, and retired members would grow to 9,794. Active membership would rise to 8,946, and voting membership to 8,733 (associates do not vote). There were 848 retired members by December 17, 2018.
Some 29% of the new invitees in 2019 are defined as people of colour. Were every one of Monday's potential new members to join the Academy, representation of people of colour among overall Academy membership will have climbed by 100% over the last four years, rising from 8% in 2015 to 16% in 2019.
Potential new writer members include John Ajvide Lindqvist (Border and Let The Right One In), Chile's Sebastian Silva, Diana Lynn Ossana (Brokeback Mountain), and Zak Penn.
From the world of documentaries, the Academy has invited a selection that includes HBO Documentary and Family Programming co-head Nancy Abraham, Free Solo co-director Jimmy Chin, The Square producer Karim Amer, and Black Sheep producer Jonathan Chinn.
Among the executive branch invitees are Amazon Studios co-head of movies Julie Rappaport, new Disney+ senior vice-president of International development Matt Brodlie, Kino Lorber chief Richard Lorber, Manchester By The Sea producer and K Period Media founder Kimberley Steward, and Focus Features president Robert Walak.
Producer invitees include Martin Scorsese's producing partner Emma Tillinger Koskoff, Debrah Hayward, John Lesher, Tanya Seghatchian, Santiago Gallelli and Deborah Snyder.
Industry veterans Jonathan Rutter, Pamela Godwin-Austen, Lorna Mann and Steve Beeman are among the publicists invited to join. The Academy also sent invites to: Yorgos Mavropsaridis and Justine Wright (editors); Robbie Ryan and Svetlana Cvetko (cinematographers); Fiona Crombie, Alice Felton, Daniel Birt (production designers); Julia Suárez and Antoinette Messam (costume designers); Brandon Proctor (sound), Ludwig Goransson and Mark Ronson (music), Irene Lamb (casting directors).
Agency figures Roeg Sutherland and Jeremy Barber are among the non-voting associates.