Legendary Japanese director Hayao Miyazaki bid farewell to animated feature film-making at a press conference announcing his retirement in Tokyo.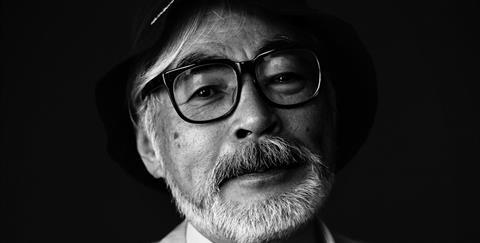 Following Studio Ghibli president Koji Hoshino's preliminary statements at the Venice Film Festival last Sunday, the 72-year-old creator of beloved classics such as Spirited Away, Princess Mononoke and My Neighbour Totoro explained his reasons for stepping down.
"In a 12-14 hour day I can only spend about seven hours drawing, plus discussions, meals and the like. Things that are not part of my work," he said.
"My work is being at the drawing desk. It's a question of hours, and at my age you reach a limit where you have to put down the pencil and go home.
"No matter how well you maintain your health, powers of concentration degrade year on year.
"People may ask why I don't rely on someone else, but I would've done that already. It's not the way I work. I feel I can't go any further."
Joining Miyazaki were Hoshino and head producer Toshio Suzuki. Suzuki was instrumental in helping launch Studio Ghibli and has served as producer on all of Miyazaki's films since 1989's Kiki's Delivery Service.
Resolute on retirement
Miyazaki had expressed his intention to retire in the past, most notably after 1997's Princess Mononoke and again after 2008's Ponyo, but this time he was resolute.
"After Ponyo it took five years to make The Wind Rises," he explained. "Another film would take more than that, due to my age. In four months' time I'll be 73, meaning I'd be close to 80 at the release. If I said I'd like to go on, it might be foolish."
Miyazaki directed 11 feature films throughout his career but said he never had any intention to become a director. "As an animator, if you can capture things like wind and light well, you feel joy, but a director waits for others' judgement. Not good for health."
Takahata to continue
To Miyazaki's amusement, his 77-year-old longtime colleague and Studio Ghibli co-founder Isao Takahata refused to join the press event and has not announced any plans to stop. Currently in post-production, Takahata's own The Tale of Princess Kaguya will be released on November 23.
The Wind Rises has earned $92.7m (Y9.23b) in Japan since its July 20 opening and will be released in the US by Disney under the Touchstone Pictures label next year. Touchstone will hold a one-week engagement in Los Angeles beginning November 8 for the film to quality for Academy Award consideration.
The release will be preceded by its North American premiere in Toronto on September 11 and its US premiere at the New York film festival. Longtime partner Wild Bunch is handling international sales rights.
Ghibli's future
With Miyazaki no longer dreaming up megahits, Suzuki was questioned on the future of the studio. "We have Takahata's film and another feature we'll announce next year," he explained.
Miyazaki added that he has hopes for the younger members at the studio and said: "When I was in my 30s and 40s I had a lot of plans and ambitions, so it depends on their determination. Mr. Suzuki will certainly not reject that."
Nausicaä sequel
There had been recent mentions of a potential sequel to 1984's Nausicaä of the Valley of the Wind to be helmed by Evangelion series director Hideaki Anno, who worked on Nausicaä and voiced the lead character of Jiro Horikoshi in The Wind Rises.
Miyazaki firmly dismissed any involvement in the idea or other future projects, even in a writing capacity.
Ghibli Museum volunteer
In good humour, Miyazaki was evasive about how he'd use his free time. "There are things I want to do other than animation, but if I say what they are and then fail at them it'd be embarrassing. I've dreamt of walking to Kyoto on foot, but that dream may never be realized."
On a more hopeful note, Miyazaki strongly hinted at being involved in the upkeep of the popular Ghibli Museum, which opened in 2001.
"I'd like to help, perhaps as a volunteer. The exhibits need renovation, with ink and paint. Colours fade over time. Maybe they'll even exhibit me, so please come visit!" he said to laughter.
At the end of the 90-minute session Miyazaki stood and thanked the gathered media, expressing surprise at how many people attended.
Despite international speculation that he'll once again come out of retirement, Miyazaki said in no uncertain terms that nothing like today's official event "will ever happen again."