HBO exec talks company's Central Europe slate and the challenges of a crowded market.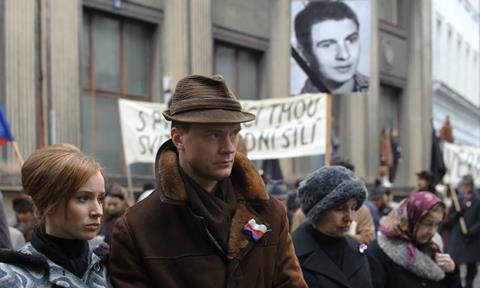 This year's industry programme at Sarajevo Film Festival has a notably small-screen flavour, with a significant portion of industry activities bannered under the CineLink Drama strand, focusing on high-end TV, and the MIDPOINT international script development programme, which is hosting a series of workshops.
TV outfits making inroads into the Balkan region in recent years include HBO, which through its subsidiary HBO Europe has been increasing its local presence under the banner HBO Adria. Ahead of Sarajevo, HBO Adria announced that it had hired Ana Balentovic as a full-time development executive for the region as it begins ramping up its activities.
Screen sat down with HBO Europe's executive producer for drama development, Steve Matthews, to discuss the company's burgeoning slate in the Balkans and its approach to an increasingly crowded market place.
Since joining the company in 2014, Matthews has begun developing a slate of Balkan projects, including launching a call for script pitches at last year's Sarajevo Film Festival, an initiative that now has two series in advanced development.
Matthews is keen to highlight that, amidst the high-end drama boom, HBO is focusing on original productions, rather than series developed from formats, or as he puts it, "plot that you can buy off the shelf and then localise".
The company has had previous success in the wider Central European region with format-based shows, such as Golden Life from Hungary or Umbre from Romania, but Matthews says that HBO now sees originals as the key product.
"We want to focus on local and regional production from local talent," he says, "An original is of more interest to both the viewer and the market, business-wise they have more potential for international distribution."
He highlights two series from the Czech Republic – Wasteland and Burning Bush – as flagship examples of how local language originals can break out internationally.
Matthews describes HBO Europe's move into the Balkans as a "very confident" one, due to the region's already healthy appetite for cable television, and "the next logical step" following success in territories such as Scandinavia.
"Why can't a show from Bosnia be the next one to break through?" he suggests.
The company has five projects in active development from the Balkan region, and a few more that are in more embryonic stages.
The series are in varying stages of development but the two furthest along are The Island, from Serbia, and Success, from Croatia.
Those were the two selected from HBO Europe's First Draft screenwriting contest, which launched at Sarajevo Film Festival last year and, after receiving more than 500 submissions, selected the winners in April 2017.
Both are now in advanced development. Success, which Matthews describes as an "authored piece", is being written by Marjan Alčevski, while HBO has set up a writers' room for The Island, which was originated by Ivan Knežević.
"I'm happy there is finally a company in the region which evaluates our work from a purely market perspective," Knežević comments to Screen. "They know what kind of original content they want to create and they simply pick quality scripts that fit them."
"Success and The Island are very different from each other but both combine a high level of professionalism, exciting narrative and a real ambition to say something about the world we live in today - in other words, they're great stories," adds Matthews.
"We are creating an opportunity for local writers, directors and producers to do a kind of work no one else in the region is attempting which is inherently exciting but brings its own challenges: as no one else is doing what we are trying to do we have to educate the local creative community about HBO creative values, and the kind of ambitions we have for television drama. From our experience so far we are confident they will respond magnificently."
Matthews says that he can't put an exact time-frame on when the series will go into production, and that they "won't greenlight anything until its ready", but he reveals that he would like to put both into production next year.
Previously, HBO said that it was aiming to produce one series per year from the Balkan region, and Matthews confirms that this is still the plan, but that the focus is on quality rather than quantity. This is, at least in part, because new players in the market such as Netflix and Amazon are producing such a huge volume of content.
"There are significant players making many, many hours of television," says Matthews. "They're making a lot more than we're capable of doing at this time, so our stuff has to be standout. Our ideas had better be sharp right from the start."
Originality is key to standing out, and the HBO brand demands it, he adds. "HBO means risk, authorship, brave projects and daring ideas. The answer [to the crowded marketplace] is to maintain the brand through quality – that's the solution to the threat around us."
Matthews says that the company is committed to re-defining genres. They aren't interested in making "a Scandinavian series about a female detective in jumper", he says, referencing The Killing.
Could the Balkans have a series that breaks through on an international scale, like The Killing?
"Why the hell not?" suggests Matthews, "People are talking about what the next breakthrough series will be, we want it to be us."