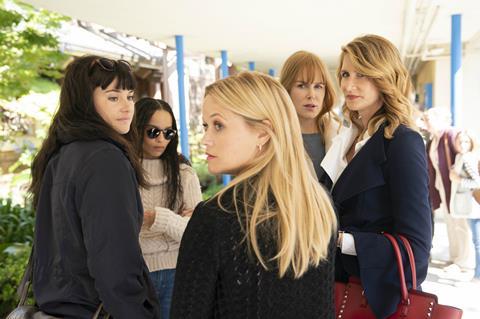 Heading into what could be a year of both challenge and opportunity for the network, HBO programming president Casey Bloys has said he is confident the premium cable outlet can keep attracting top talent and projects in the face of competition from Apple, Disney and other new streaming services.
"We're already in the most competitive environment it's been and we're doing pretty well," Bloys told Screendaily after HBO's session at the Television Critics Association (TCA) press tour in Los Angeles. "I suppose it will get more competitive, but we're not too worried about it."
"We're lucky that people respond to the HBO brand and the way we roll things out on a weekly basis and support our shows from the marketing and publicity perspective week in and week out," Bloys added. "People want to continue to sell to us and have their shows air on HBO."
Under WarnerMedia's new corporate parent AT&T, HBO is this year increasing its output of original programming by 50% to around 150 hours, said Bloys, "and none of the programming we're doing is anything that we wouldn't have done two or five years ago. It seems so far like everybody's happy."
The output might continue to increase after 2019, said Bloys: "Assuming that we find the shows that meet that quality level, I think there might be room for some more."
During its TCA session, HBO presented new projects including dramatic mini-series Chernobyl, co-produced with the network's frequent international partner Sky, and the second season of Big Little Lies.
Asked if HBO's international co-production activities might be affected by the network's role in the streaming service that WarnerMedia will launch later this year (in the US and perhaps then internationally, according to reports), Bloys said: "I can't really respond to how the streaming service will affect that because I don't know the details of what [the service] is going to look like."
In the network's Big Little Lies panel, creator and executive producer David E Kelley and Reese Witherspoon and Nicole Kidman, both executive producers and stars, said they had not originally intended to make a second season of the Emmy-winning dramedy. But the first season, said Kelley, "ended on a very open note of what's going to happen next. So there was a lot of fertile storytelling ground to be mined."
Meryl Streep, who joins the cast for the second season, set to launch in June, said she signed up for the show because of "the gravitational pull of the piece. I thought it was an amazing exercise in what we know and what we don't know about people."
Asked if a third season was on the cards, Kelley said there was "no such plan now. We like where our closure is at the end of season two, so that will probably be it."
"That's what you said last time," responded Kidman.