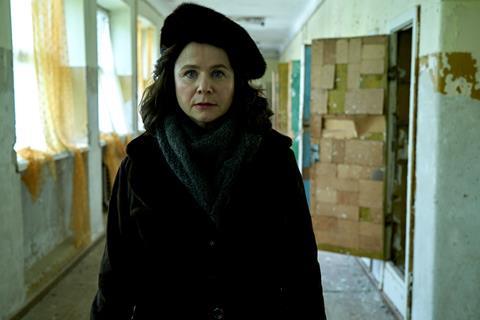 The Tribeca Film Festival unveiled its line-up of TV screenings on Monday (18) including the world premieres of Amazon's dark superhero comedy The Boys, fact-based drama series Chernobyl from HBO, and The Hot Zone from Nat Geo.
The full TV line-up at the New York festival, this year running from April 24-May 5, takes in eight series premieres, two season premieres, a feature documentary, and five independent pilots.
Other series getting world premieres at the event are Netflix's animated comedy Tuca & Bertie and HBO's Duplass brothers docuseries On Tour with Asperger's Are Us.
The premiere of Chernobyl (pictured), about the catastrophic 1986 nuclear accident, will be followed by a panel with cast members Jared Harris, Stellan Skarsgård, and Emily Watson, writer Craig Mazi and director Johan Renck.
Showrunners and executive producers Kelly Souders and Brian Peterson, author Richard Preston and star Julianna Margulies will be on hand to talk about The Hot Zone, inspired by the true story of the origins of the Ebola virus.
Tribeca will give premieres to the second season of Starz series Vida, about two Mexican-American sisters from the Eastside of Los Angeles, and the sixth season of Paramount Network's Younger, about an aspiring editor who lies about her age to get ahead in publishing.
Receiving their New York premieres will be Wu-Tang Clan: Of Mics And Men, Showtime's docu-series about the hip-hop group, and State Of The Union, SundanceTV's short form comedy series.
Emulating the film reunions staged at the festival, Tribeca will for the first time mark birthdays for two landmark TV shows. A 30th anniversary screening of two episodes from The Simpsons will be followed by a panel with James L Brooks, Matt Groening, Matt Selman, Al Jean and Harry Shearer, and a 25th anniversary screening of sketch comedy show In Living Color will lead into a panel with creator and co-star Keenen Ivory Wayans as well as Shawn Wayans, Kim Wayans, Tommy Davidson, David Alan Grier and Rosie Perez.
The final season of Mr Robot, whose first episode screened at Tribeca in 2015, will be celebrated in a conversation with Oscar-winner Rami Malek, Christian Slater and Carly Chaikin, and creator Sam Esmail.
Tribeca Film Festival director Cara Cusumano commented: "When some of the most cinematic storytelling continues to happen on screens of all sizes and shapes, we were particularly inspired this year by the scope, innovation, and accomplishment of the so-called 'small' screen. It's a privilege to showcase these diverse works with a robust program that speaks to the limitless potential of the episodic form."