Benjamin Naishtat's debut feature picked up the Grand Prize at the festival in South Korea.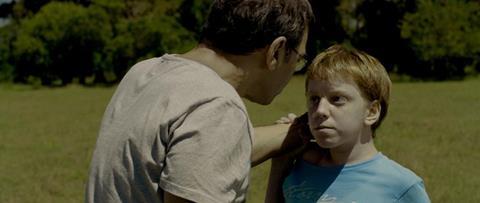 The 15th Jeonju International Film Festival (JIFF) awarded Benjamin Naishtat's feature debut History Of Fear the Grand Prize and $19,000 in the International Competition. The Argentina-France-Germany-Uruguay-Qatar co-production is a sociological thriller made up of episodes that take place in Buenos Aires.
The International Competition jury said: "History Of Fear fits to the quality of the 15th Jeonju International Film Festival, focusing on alternative films, in that it breaks the narrative and has rough and experimental style."
Lois Patino's Coast Of Death took the Best Picture Award sponsored by Woosuk University with $10,000 in the International Competition and the Special Jury Award sponsored by Jeonbuk Bank with $6,000 went to Hotel Nueva Isla by Irene Gutiérrez and Javier Labrador.
Lauded for "very strong and naturalistic acting and accomplished long take camera work," Jang Woo-jin's feature debut A Fresh Start won KW10m ($9,800) with the Grand Prize for Korean Competition.
Park Sayu and Park Donsa's ethnic-Koreans-in-Japan high school rugby film One For All, All For One picked up the CGV MovieCollage Award for Local Distribution Support with a cash prize of KW10m ($9,800) and publicity and marketing worth KW20m ($19,600).
Yoo Youngseon's feature debut The Wicked picked up the CGV MovieCollage Award for Upcoming Project Support with a cash prize of KW10m ($9,800).
Yoji Yamada's Tokyo Family won the NETPAC Award for an Asian feature screened in non-competition sections, World Cinemascape, Cinemafest, and Expanded Cinema.
Focusing more on film screenings this year, the revamped JIFF saw 169 screenings (out of a total of 236) sold out by the end of May 6. Last year had 108 screenings sold out from a total of 212. The fest is screening 181 films from 44 countries.
Although the fest is running 3 more days with repeat screenings, the awards ceremony took place today (May 7) with the top winner, History Of Fear, screening afterwards.
Jeonju Digital Project 2014
Known for its shorts triptychs, JIFF this year expanded its trademark Jeonju Digital Project (JDP) to make three feature films meant for theatrical release. With Hungarian director Gyorgy Palfi and Korean directors Shin Youn-shick and Park Jung-bum on board, the fest unprecedentedly gave them seed money and also gathered outside financiers for the two local films.
Palfi thanked the fest for saving his career saying, "I was not really able to produce films in Hungary from three years ago that I thought a lot of times if I should give up my dream as a filmmaker. In the meantime, I was offered by JIFF to participate in JDP 2014, and as far as I was thinking of ways to produce the films for the scenarios I wrote already, it was of opportunity."
For his feature, Free Fall, Palfi put together a $500,000 budget on the basis of the cash sent by JIFF saying that although in the end the JIFF grant was only 20% of the total budget, he could never have put together the rest without it.
"In Hungary, we could find a camera rental company and studios that joined like co-producers, but we still needed the cash to pay lighters and camera pushers and other crew," he said.
"So now we need to get profit to the movie because everyone gave their own stuff to the film for almost free or very cheap, and we have to pay it back. And of course we would like to pay back to the Jeonju Digital Project and we hope it will be good because if these three features can get releases and TV sales, it will help make more movies," he said, voicing the three directors' opinions on Jeonju's new feature film initiative and the hope that it would nurture more independent filmmaking.
Park's film Alive had amongst its financiers Opus Pictures - whose credits include Snowpiercer and The Man From Nowhere, for its budget of approximately KW300m ($294,000).
Programmer Jang Byungwon said, "In the case of Alive, it helped JIFF was the first one in and will be the last one out in terms of payments, thus reducing the risk on returns for the main investors."
Shin's The Avian Kind has an IPTV company on board financing part of his roughly KW100m ($97,700) budget.
"If you ask filmmakers why they make films, the answers will all be different. But if you ask them what they want most, the answers will all be the same that 'I want to make my next film'," he said.