Event will programme a section of Hong Kong films from the last 20 years, including Infernal Affairs, Election and Shaolin Soccer.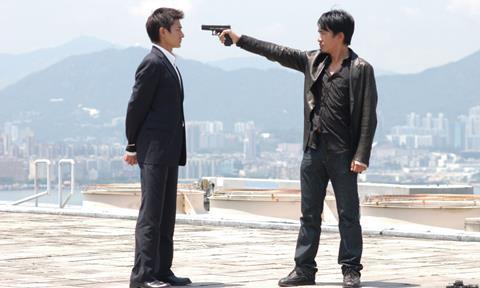 This year's Hong Kong International Film Festival (HKIFF) will mark the 20th anniversary of Hong Kong's handover from Britain to China with a special focus on major Hong Kong movies of the past 20 years.
The section, 'Paradigm Shift: Post-97 Hong Kong Cinema', kicks off with films such as Fruit Chan's Made In Hong Kong and Ringo Lam's Full Alert from the period immediately after the handover, when local cinema was under pressure with box office declining and the mainland market starting to grow.
It then moves on to landmark titles such as Stephen Chow's Shaolin Soccer (2001), Andrew Lau and Alan Mak's Infernal Affairs [pictured] (2002) and Johnnie To's Election (2005), which all defined Hong Kong cinema in their own way.
The series of 20 titles ends with Pang Ho-cheung's Love In A Puff (2010) and Wong Kar-wai's The Grandmaster 3D (2013). The focus also includes a seminar with experts on Hong Kong cinema such as Lam Kam-po, Colin Geddes and Stephen Teo.
Elsewhere in the programme, Taiwanese filmmaker Giddens Ko's Mon Mon Mon Monsters, about a group of teenagers who capture a man-eating monster, will close the festival, which as previously announced will open with the third film in Pang's 'Love' trilogy, Love Off The Cuff.
Japanese filmmaker Ishii Yuya's The Tokyo Night Sky Is Always The Densest Shade Of Blue, which recently premiered in Berlin, will screen at the Awards Gala. Other Berlin titles selected as HKIFF gala premieres include Golden Bear winner On Body And Soul, directed by Hungary's Ildiko Enyedi, and Agnieszka Holland's Spoor.
The festival will also host master classes with Enyedi, Holland and Olivier Assayas, whose 2009 biopic Carlos will screen as a special presentation. Special sections at HKIFF this year include Passion of Latin American Cinema, The Rise & Rise Of Romanian Cinema and previously announced tributes to Taiwan's Edward Yang, the Philippines' Mike De Leon and Robert Bresson.