"You just pissed off the wrong community," actor-activist George Takei says.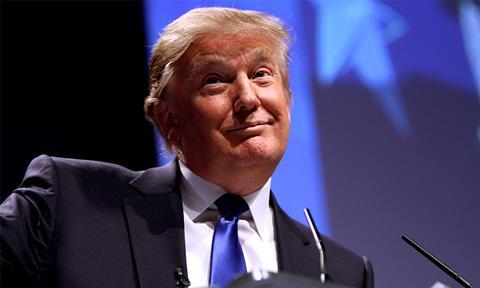 Hollywood reacted with anger on Wednesday morning over the president's latest comments on Twitter that transgender people should not serve in the military.
Trump posted three tweets that read: "After consultation with my Generals and military experts, please be advised that the United States Government will not accept or allow…… Transgender individuals to serve in any capacity in the U.S. Military.

"Our military must be focused on decisive and overwhelming….. victory and cannot be burdened with the tremendous medical costs and disruption that transgender in the military would entail. Thank you."
Jill Soloway, creator of Amazon Studios' hit show Transparent, which stars Jeffrey Tambor as a transgender woman and also features transgender actor Alexandra Billings, tweeted: "I can't think of any situation where banning certain himans makes sense. It only works as hate-normalizing. #overthrow."
Actor and activist George Takei tweeted: "Donald: With your ban on trans people from the military, you are on notice that you just pissed off the wrong community. You will regret it."
He added: "Trump's claim that the cost of trans servicemembers would be "tremendous" is bunk. 2016 Rand Study estimated the add'l care cost at $6mil."
Christopher Racster, executive director of Outfest, said: "When I heard the President's comments this morning, I immediately thought of Kristen Beck and her story that we screened [Lady Valor: The Kristin Beck Story]. Her life – its bravery, its strength, its grace, and its courage – forever stands to me as a testament of the best of our military.

"Hers has not been the only film though to spotlight the tremendous service and impact of trans military personnel over the years. Those stories moved the previous administration to allow for transgender people to serve openly in the military. Allowing gays and lesbians to serve openly was a long fight that we finally won. Today the battle continues for our trans community. It is no doubt a fight that will have its victory."
Sarah Kate Ellis, president and CEO of GLAAD, the Gay & Lesbian Alliance Against Defamation, said: "President Trump today issued a direct attack on transgender Americans, and his administration will stop at nothing to implement its anti-LGBTQ ideology within our government – even if it means denying some of our bravest Americans the right to serve and protect our nation.

"Today further exposed President Trump's overall goal to erase LGBTQ Americans from this nation. Trump has never been a friend to LGBTQ Americans, and this action couldn't make that any more clear."
Trump's inflammatory remarks come after former president Barack Obama said last year transgender people could serve openly in the military.
Trump's defence secretary James Mattis agreed in June to a six-month delay in recruiting transgender people as the Pentagon reviewed the situation and its possible impact on "readiness" in the military.
Santa Monica-based think tank Rand Corporation issued an excerpt from its research indicating that given the number of transgender people in the military and the smaller number seeking gender transition-related treatment, this would lead to a loss of less than 0.0015 of total available labour years among active service members.
In 2016 Rand estimated the number of transgender people to be 2,450 out of 1.2m service members on active duty. Various campaign groups have suggested the number is higher.
St. John's Well Child and Family Center, creator of one of the largest transgender health programmes in the country, announced the second annual TransNation Festival will take place in Hollywood from October 13-15.