Jessica Chastain, Chris Evans and Scott Derrickson react with disgust to director's Last Tango In Paris comments.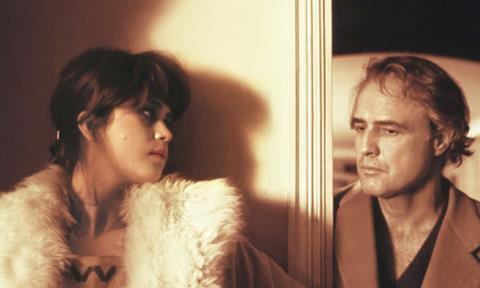 An old industry controversy has re-surfaced, with the online diffusion of a 2013 video showing Bernardo Bertolucci admitting that actress Maria Schneider wasn't consulted in advance about the infamous rape scene in 1972 drama Last Tango In Paris.
In the interview at an event held at La Cinémathèque Française in Paris in 2013, Bertolucci said he and Marlon Brando came up with the idea to shoot the scene in which Brando's character uses a stick of butter to rape Schneider.
"The sequence of the butter is an idea that I had with Marlon in the morning before shooting it," he said. "I wanted her reaction as a girl, not as an actress. And I think that she hated me and also Marlon because we didn't tell her."
At the time Brando was 48 and Schneider was 19.
Bertolucci has made the admission previously in interviews but since the footage went viral over the weekend several well-known actors and directors have reacted with disgust on Twitter, though some media outlets and social posters may have also misinterpreted Bertolucci's comments as an admission that an actual rape took place on the set (Time tweeted on Saturday: 'Last Tango in Paris' director admits controversial butter rape scene was really rape').
Jessica Chastain: "To all the people that love this film- you're watching a 19yr old get raped by a 48yr old man. The director planned her attack. I feel sick."
Selma director Ava DuVernay: "Inexcusable. As a director, I can barely fathom this. As a woman, I am horrified, disgusted and enraged by it."
Captain America star Chris Evans: "Wow. I will never look at this film, Bertolucci or Brando the same way again. This is beyond disgusting. I feel rage."
Actress Evan Rachel Wood: "I second that. This is heartbreaking and outrageous. The 2 of them are very sick individuals to think that was ok."
Doctor Strange director Scott Derrickson: "Unconscionable and horrific"
Actress Anna Kendrick: "Ms Schneider stated this several years ago. I used to get eye-rolls when I brought it up to people (aka dudes)."
Actress Mia Kirshner: "Can't stop thinking about Maria Schneider. She was sexually assaulted while filming a scene in Last Tango in Paris."
Schneider herself, who died of cancer in 2011, spoke about the infamous scene in 2007, telling the Daily Mail that no intercourse occurred on the set of the film. However, she was clear about her objections to the scene.
"That scene wasn't in the original script", she said. "The truth is it was Marlon who came up with the idea. They only told me about it before we had to film the scene and I was so angry."
"I should have called my agent or had my lawyer come to the set because you can't force someone to do something that isn't in the script, but at the time, I didn't know that.
"Marlon said to me, 'Maria, don't worry, it's just a movie.' But during the scene, even though what Marlon was doing wasn't real, I was crying real tears. I felt humiliated and, to be honest, I felt a little raped, both by Marlon and Bertolucci. After the scene, Marlon didn't console me or apologise. Thankfully, there was just one take."
Last Tango in Paris follows a young Parisian woman who meets a middle-aged American businessman who demands their clandestine relationship be based only on sex.
The film was nominated for two Oscars and drew largely positive responses from critics, however its raw portrayal of sexual violence and emotional turmoil led to international controversy and drew government censorship in some countries.
Schneider, who suffered from drug addiction and mental health issues in the 1970s following her rise to fame off the back of Last Tango In Paris, remained haunted by the film thoughout her career, stating in interviews that she was "not prepared" for the film and that she "regretted" being cast in it.