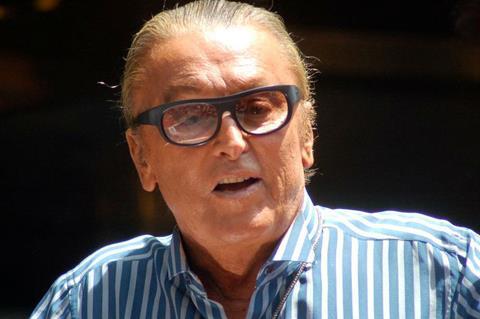 Robert Evans, the larger-than-life Hollywood executive who as head of production at Paramount guided the studio through a period of extraordinary creativity in the late 1960s and 1970s and produced Chinatown, has died. He was 89.
In a statement, Paramount Pictures said, "Hollywood has lost one of its most influential and iconic figures in the inimitable Bob Evans. He was a valued and beloved partner to Paramount Pictures for over half a century, and his contributions to our organization and the entertainment industry are innumerable and far-reaching. As an actor, a producer and a leader, he has left an indelible mark on our studio and the world of film. His influence will be felt for generations to come. We extend our deepest condolences to his loved ones."
Evans, who died on Saturday (October 26), defined so much of the New Hollywood era, not just for his flamboyance, good looks and appetite for life (he was married seven times including to Ali MacGraw), but his taste in film.
In his late 30s, with his acting days behind him, Evans took on the job of Paramount head of production in 1966 and built a pipeline that included Chinatown, The Godfather, The Godfather Part II, The Conversation, and Rosemary's Baby.
His work at the time was at the vanguard of a rare period of artistic daring and excellence in Hollywood, and the films were and remain admired around the world.
Evans was sidelined at the studio in the latter stages of the 1970s, but still produced fine films, among them Urban Cowboy and Marathon Man. He returned to Paramount as a producer of less prestigious fare in the early 1990s when his credits included Sliver and How To Lose A Guy In 10 Days.
Evans was born in New York on June 29, 1930. He acted and also got rich working with his brother making women's clothing at Evan-Picone, which Revlon would eventually acquire.
Inevitably for a life filled with deep ambition and hard living there was controversy. Evans was cited as a customer of Hollywood Madam Hollywood madam Heidi Fleiss, got arrested for cocaine possession in the 1980s, and appeared as a witness in the trial over the murder of producer Roy Radin, which had happened in 1983 during the making of The Cotton Club.
He survied a major stroke in 1998 and continued to work and remained larger-than-life to the end, poking fun at himself and revealling in his reputation as a raffish Hollywood elder statesman. Evans voiced a character in a 2003 Comedy Central animated series, wrote his memoirs, and became known to a wider audience as the subject of the 2002 documentary The Kid Stays In The Picture.