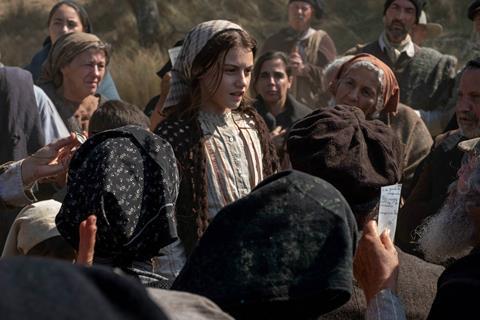 Former Amazon Studios head of theatrical marketing and distribution Bob Berney and Jeanne Berney's revived Picturehouse has acquired all North American rights to the faith-based Fatima starring Stephanie Gil (Terminator: Dark Fate), Lúcia Moniz (Love, Actually), Joaquim de Almeida (Queen Of The South), Goran Visnjic (Beginners), Sonia Braga (Aquarius), and Harvey Keitel (The Irishman).
Picturehouse co-heads the Berneys made the announcement on Monday with James T. Volk, chairman and founder of Origin Entertainment, which produced the film along with Elysia Productions and Rose Pictures.
Fatima tells the story of a 10-year-old shepherd and her two young cousins in Fátima, Portugal, who report seeing visions of the Virgin Mary. Their revelations inspire believers but anger officials of both the Church and the secular government, who try to force them to recant their story. As word of their prophecy spreads, tens of thousands of religious pilgrims flock to the site in hopes of witnessing a miracle.
The film will open theatrically nationwide on April 24, 2020.
Game Of Thrones cinematographer Marco Pontecorvo directed his second feature after Pa-ra-da from a screenplay he co-wrote with Valerio D'Annunzio and Barbara Nicolosi. Producers are Volk, Dick Lyles, Stefano Buono, Maribel Lopera Sierra, Rose Ganguzza, Pontecorvo and Natasha Howes.
"Marco Pontecorvo has created a beautiful and inspirational film telling the emotional story of three young children whose visions captured a nation at a time when World War I was ravaging Europe," said Bob Berney and Jeanne R. Berney in a joint statement. "We are extremely excited to bring this film to North American theatergoers."
Berney departed Amazon Studios in June at the end of a four-year stint in which he oversaw campaigns for Kenneth Lonergan's double Oscar winner Manchester By The Sea, Asghar Farhadi's Iranian foreign language Oscar winner The Salesman in 2017, and Academy Award nominees The Big Sick and Cold War.
The Berneys originally formed Picturehouse in 2005 as a joint venture between HBO and New Line Cinema and headed by Bob Berney, and relaunched it in 2013 as an independent distributor.