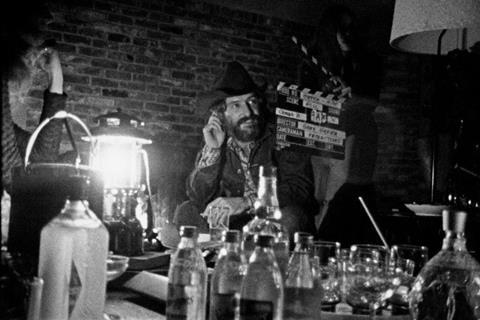 When producer Filip Jan Rymsza completed Orson Welles' 'lost' film The Other Side Of The Wind, he thought his exhausting engagement with the legendary director was over.
But two years after its Venice premiere, Rymsza is back on the Lido with Hopper/Welles, a documentary centred on a conversation between late actor-director Dennis Hopper and the iconic filmmaker behind Citizen Kane, who died in 1985.
Rymsza and editor Bob Murawski originally discovered around five hours of material when they were sifting through 100 hours of footage shot for The Other Side Of The Wind. At that point, they had no intention of using it to create a separate film.
"We knew it didn't fit into The Other Side Of The Wind," said Rymsza of the footage, shot in 1970 shortly after Hopper had made Easy Rider. The material was also unsuitable for They'll Love Me When I'm Dead, a companion documentary to The Other Side Of The Wind, directed by Morgan Neville.
"So this [material] was set aside," recalls Rymsza, founder of Los Angeles-based Royal Road Entertainment. He knew the material was "fascinating" but was suffering "Welles fatigue" after his epic efforts on the earlier project, which involved ploughing through 1,083 reels of footage. "It took me about two years to come back to it."
The spark was lit at a meeting in LA between Rymsza and his friend Nick Ebeling, director of 2016 Hopper documentary Along For The Ride. Discussing how much Hopper footage was available, the producer realised just how rich and fascinating this untapped material might turn out to be, both for fans of the industry titans and film lovers in general.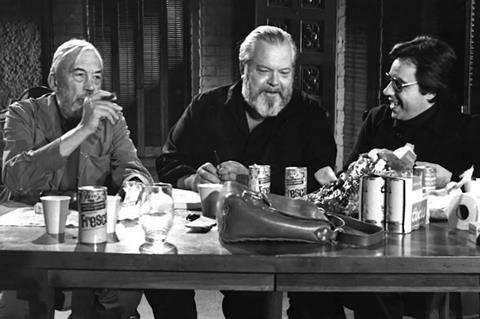 "I went back to it with fresh eyes and I was totally spellbound," says Rymsza. "It was super topical. Stylistically, it was really cool. I loved this aesthetic that Orson decided [to pursue], having this unbroken two-hour conversation that is so intimate you feel you are in the room."
The footage features Hopper and Welles discussing the ethics and aesthetics of filmmaking. The power dynamic is intriguing. Welles is one of the greatest directors in the history of cinema but, during the conversation, he is sometimes deferential to Hopper, who was at his peak.
"Obviously, Welles' body of work is far greater than Hopper's, there is no comparison," Rymsza reflects. "But when we are talking about the singular inspiration that led to Easy Rider and the way that it revolutionised film to some degree, and what it did from a box office popularity standpoint, that is something Welles was never able to achieve.
"Despite the greatness of Citizen Kane and other films, they were, by and large, box-office failures. I think Welles was fascinated because Hopper was using his model."
Following the success of his 1969 debut Easy Rider, Hopper was at work on The Last Movie, which was a resounding commercial failure when released in 1971 but soon achieved cult status.
"You see all the warning signs in terms of Hopper's responses [to Welles's questions] in terms of what is about to happen with The Last Movie," says Rymsza.
In the footage, Welles highlights the need to "be your own censor, divorcing yourself from your footage and being the enemy of your film". This, Rymsza suggests, is where the two men differed. Hopper was less disciplined and more indulgent.
'Mosquito State'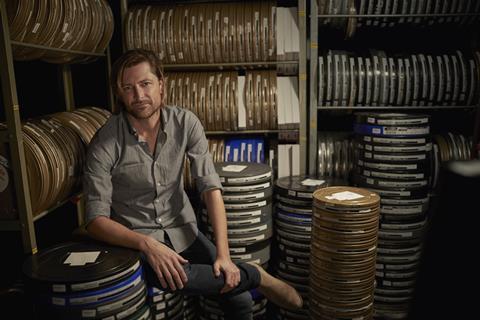 Polish-born Rymsza has another film at Venice, drama Mosquito State, which marks his third feature as a director. The film centres on an obsessive Wall Street data analyst, played by Beau Knapp (Destroyer), on the eve of the 2008 financial meltdown.
Produced by Royal Road Entertainment and Poland's WFDiF, Rymsza says the film was heavily influenced by his work on the Welles projects.
"The Other Side Of The Wind was an incredible workshop in filmmaking and in trying to figure out how Welles was approaching it; deconstructing a film so you can reconstruct it," says Rymsza.
"Watching some of the dailies of The Other Side Of The Wind, watching Orson direct, a lot of his approach stayed with me – how he was softer with certain actors; how he would lead them to a certain performance."
Murawski, Rymsza's collaborator on the Welles projects and the Oscar-winning editor of The Hurt Locker and Sam Raimi's Spider-Man movies, was also heavily involved in the editing of Mosquito State.
The film was only completed two weeks ago, when the final VFX shots were incorporated. It was put together as a Polish-US co-production. Rymsza reconstructed New York penthouse interiors in downtown Warsaw and received support from the Polish Film Institute.
Rymsza worked on both Hopper/Welles and Mosquito State under the radar. "Both were kept a secret," he said. "I wanted the films to arrive without expectation, for everybody to discover them on their own."
CAA is handling world sales on Hopper/Welles and North America on Mosquito State.
Netflix was one of the backers of The Other Side Of The Wind and Rymsza will be contacting the streaming giant in a bid to continue that relationship with Hopper/Welles. "I will certainly talk to them [Netflix]," he said. "Between Venice and the virtual Toronto market, I am sure we are going to speak about this. I think it would make sense for all parties."