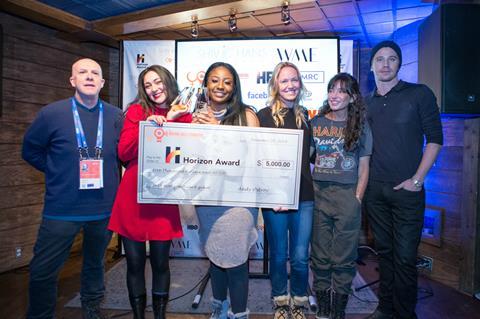 Horizon Award co-founders Cassian Elwes, Lynette Howell Taylor, and Christine Vachon on Saturday (January 20) announced the winners of the fourth annual Horizon Awards in Park City.
Giselle Bonilla (pictured second from left) and Benita Ozoude (pictured third from left) were announced as the winners for their short films of two minutes or less. The awards received a record 380-plus submissions from 275 films schools worldwide.
Bonilla (New York University's Tisch School of the Arts) directed her short Virgencita about a woman who confesses her desire to abort a probable pregnancy.
University of Texas at Austin graduate Ozoude's short Queen Of Rosewood centres on a Cajun food restaurant owner from East Austin who devotes her spare time to feeding the homeless.
Elwes (pictured far left), Howell Taylor (pictured third from right), and Vachon joined Sundance Feature Film Program founding director Michelle Satter to choose the winners from a list compiled by this year's judges Catherine Hardwicke, Angela Robinson, Hannah Minghella, Liza Johnson, Tanya Wexler, and Vicky Jenson.
Elwse and Howell Taylor were joined at the ceremony by the director of The Handmaid's Tale and this year's Sundance selection I Think We're Alone Now Reed Morano (second from right) and Garrett Hedlund (far right, Elwes' star of Sundance 2017 selection and Oscar contender Mudbound.)
The Horizon Award was set up to champion emerging female filmmakers and offers mentorship and grants. This year the co-founders welcomed back The Adrienne Shelly Foundation, which offered a $5,000 grant to the winners.
"Nothing has been more rewarding for me than to help my partners identify new female directors and try to help and inspire them to pursue their dream of making movies," Elwes said.
Howell Taylor added: "We need to move beyond the broken record of how underrepresented women are in front of and behind the camera. Instead of talking about how women need to be afforded the same opportunities as their male counterparts are offered I will share how grateful I am for all the companies and individuals who have supported the Horizon Award for the past four years and all that it stands for."
Inaugural 2015 Horizon Award winner Veronica Ortiz Calderon returned to present her new film Candlelight, a short documentary showing the devastation and triumph of the spirit in Puerto Rico in the wake of Hurricane Maria.
The Horizon Award co-founders thanked new sponsors HBO, MRC, and Facebook as well as returning sponsors ShivHans Pictures, Endeavor Content, Adrienne Shelly Foundation, CreativeFuture, MPAA, The Black List, Creative Mind Group, Indiegogo, Sundance, and Women In Film Los Angeles.