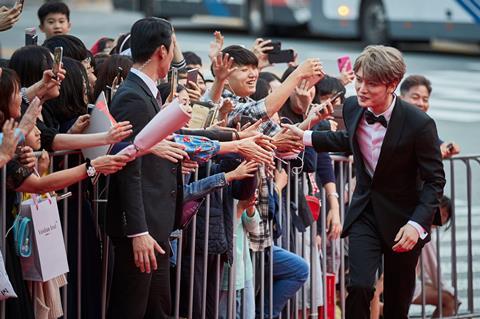 South Korean TV producer Kim Yongkyu won best creative at the inaugural edition of the Asia Contents Awards in Busan last night, while best Asian drama prizes were presented to Thailand's Hormones: The Series and Singapore's Faculty.
Kim won the award for Studio Dragon's Mr. Sunshine, a historical drama starring Lee Byung-hun (Red 2) that has premiered globally on Netflix. Hormones: The Series is a teen drama covering controversial topics such as teenage pregnancy, while Faculty revolves around professors and students in a Singapore university.
Best actress awards were presented to Chinese actress Yao Chen for All Is Well and Maja Salvador from the Philippines for Wild Flower. Best actor prizes went to China's Lei Jia Yin for The Longest Day in Chang'an, Korea's Kim Nam Gil for The Fiery Priest and Japan's Yamada Takayuki for The Naked Director.
Taiwan's The World Between Us, about the aftermath of a mass shooting, took a best writer award for the work of Lu Shih-yuan, as did Korea's My Mister, about three middle-aged brothers, with the award going to Park Hae Young.
Best rising star went to Fang Rong for Faculty, while best newcomer awards were presented to Morita Misato (The Naked Director), Jin Xionghao and Zhuang Dafei (Mountains And Ocean) and Kemisara Paladesh and Sananthachat Thanapatpisal (Hormones: The Series).
Korea's Kim Jae Joong, who has starred in TV dramas such as Spy and Manhole, picked up the Excellence Award, while the Lifetime Achievement Award went to Hong Kong TV director and producer Raymond Lee Wai-man (The Flying Tigers).
Organised by the Asian Film Market, the Asia Contents Awards recognise outstanding TV series from across Asia and are part of the market's plans to expand its activities into the worlds of TV and streaming.