LFF opener Suffragette lands with non-final $4.5m (£2.93m) from seven days; Warner Bros' Pan sails to $4.2m (£2.73m) from 506 sites, including previews.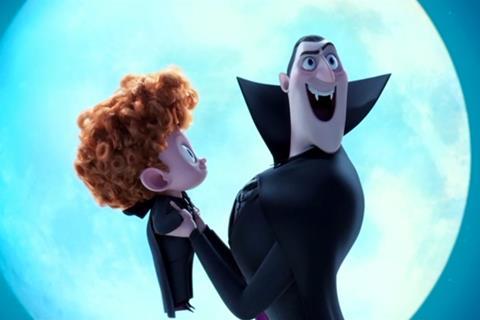 SONY
Winning the battle of the extended openings, Hotel Transylvania 2 has repeated its domestic success by debuting top of the UK box office.
Sony's animated sequel opened with $9.7m (£6.3m) from its 542 sites, including $5.4m (£3.5m) from two previous weekends of previews totalling four days. It's worth noting that its Fri-Sun tally of $4.3m (£2.8m) would have also seen it chart first.
The result means that Hotel Transylvania 2 is already more than two-thirds of the way to its predecessor's final result of $12.5m (£8.1m). With the school holidays coming up, it's well placed to achieve at least double that tally.
Also for Sony, The Walk suffered with a $209,000 (£135,000) second weekend for $1.9m (£1.25m) to date, meaning it'll end its run as one of the worst UK performances for director Robert Zemeckis.
FOX
London Film Festival opener Suffragette enjoyed a promising start in the UK, charting second after its seven-day opening.
The Pathe release (distributed by Fox in the UK) grossed an overall non-final $4.5m (£2.93m) from its 530 sites, including $2.2m (£1.39m) from Mon-Thurs. Based solely on Fri-Sun, Suffragette's $2.4m (£1.54m) would have seen it chart fourth.
Given its older-skewing audience, Suffragette should enjoy healthy midweek returns and maybe even prosper at the weekend as counter-programming to the current family-friendly market.
Also for Fox, The Martian dropped a highly respectable 35% with a $3.7m (£2.4m) third weekend for a strong $27m (£17.5m) to date. That makes it Ridley Scott's fourth biggest release, with Hannibal's $33.4m (£21.6m) next in its sights.
Maze Runner: The Scorch Trials stands at $13.4m (£8.7m) following a $265,000 (£171,419) sixth weekend.
WARNER BROS
Pan sailed into third on its UK bow, following last weekend's previews.
Warner Bros' fantasy prequel took $4.2m (£2.73m) from its 506 sites, including $1.6m (£1.06m) in previews. Based solely on Fri-Sun totals, Pan would have also charted third.
That marks the best opening for director Joe Wright in the UK, topping Pride & Prejudice's $3.9m (£2.5m) from 397 sites. However, that film still achieved his best Fri-Sun result at $3.5m (£2.26m).
Also for Warner Bros, The Intern added $414,000 (£268,000) for $3.7m (£2.4m) after three weeks in play.
UNIVERSAL
Rounding off this week's top five was another new entry in the form of Crimson Peak.
Universal's gothic horror scared up $1.5m (£967,030) from its 420 sites, marking one of Guillermo del Toro's lowest UK debuts for an English-language films, ahead of only Mimic's $755,000 (£487,821) from 274 sites.
However, based solely on Fri-Sun totals, Crimson Peak opened ahead of Hellboy's $1.43m (£926,142) from 393 sites.
Also for Universal, Everest grossed an extra $337,000 (£217,638) to lift it to $15.6m (£10.26m) after five weeks in play.
Its performance means Universal has had eight £10m+ films in 2015, only the third time a studio has achieved the feat, following Fox last year and Paramount in 2011.
LIONSGATE
Following its strong opening, Lionsgate's Sicario held well with just a 36% drop (excluding previews) in its second weekend.
The crime drama added $1.36m (£877,236) for $5.18m (£3.34m) to date, but is now tracking narrowly behind Prisoners which stood at $5.24m (£3.39m) at the same stage in its run.
Prisoners fell just 13% in its third weekend, so Sicario faces a tough challenge to keep up.
STUDIOCANAL
In its sixth weekend, StudioCanal's Legend fell just over 30% to take a further $694,000 (£448,466) for $27.2m (£17.58m), making it the seventh biggest 18-rated film of all time.
Seven's $30.2m (£19.52m) result may prove a step too far for the Krays biopic, however.
Also for StudioCanal, Macbeth posted a $264,000 (£170,583) third weekend for $3.6m (£2.3m) to date, while The Program struggled to a $223,000 (£144,181) UK debut, including previews, from its 150 sites.
That opening marks one of director Stephen Frears' lowest-ever UK openings, behind Dirty Pretty Things' $219,000 (£141,865) from just 50 sites but ahead of Lay the Favourite's $174,000 (£112,706) from 284.
PICTUREHOUSE ENTERTAINMENT
Yorgos Lanthimos' English-language debut The Lobster recorded a decent UK debut of $355,000 (£229,350), including around $15,000 (£10,000) in previews, from its 74 sites through Picturehouse Entertainment.
That marks a healthy site average of $4,791 (£3,099) for what is undoubtedly a tricky sell, and is a sign that the film is well positioned to be the most notable arthouse offering over the coming weeks.
Also for Picturehouse, NT Live's production of Hamlet had some encore screenings over the weekend following its strong opening on Thursday (Oct 15) and currently stands at $2.9m (£1.9m).
DOGWOOF
Released in three sites through Dogwoof, Censored Voices posted a UK debut of $1,200 (£805).
UPCOMING RELEASES
This week sees saturation releases for eOne's The Last Witch Hunter (opens Oct 21) and Paramount's Paranormal Activity: The Ghost Dimension (opens Oct 21), as Universal's Back to the Future trilogy gets a one-day re-release on Oct 21.
Lionsgate's Paper Planes and eOne's Mississippi Grind both receive wide releases, while Metrodome's Brand: A Second Coming and Picturehouse Entertainment's Listen to Me Marlon are among the films receiving a limited release.