Ensemble romantic comedy drew more online attention than the new Sacha Baron Cohen film.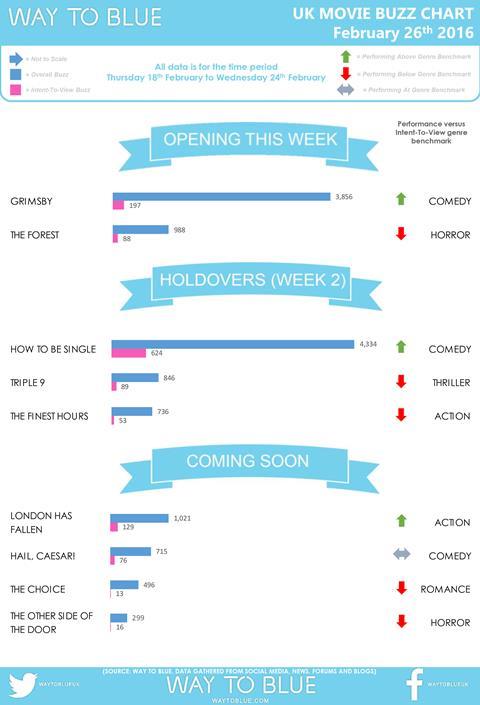 Christian Ditter's ensemble comedy How To Be Single topped Louis Leterrier's new opener Grimsby to top a quiet week on this week's buzz chart, according to analysis firm Way To Blue.
The Daktoa Johnson, Rebel Wilson, Leslie Mann and Alison Brie-starring How To Be Single registered more than 4,300 comments across social media, news, forums and blogs, with around 600 of those registering an intent to view the film in its second week of release.
New opener Grimsby, starring Sacha Baron Cohen, Mark Strong and also Rebel Wilson, came up just short with 3800 comments, with nearly 200 of those suggesting intent to view.
Fellow new opener The Forest generated under 1000 comments, as did holdovers Triple 9 and The Finest Hours.
Of the titles set to open in the coming weeks, including Gerard Butler-starring sequel London Has Fallen and the Coen Bros' George Clooney-starring Hail Caesar, none garnered significant attention in the online sphere.