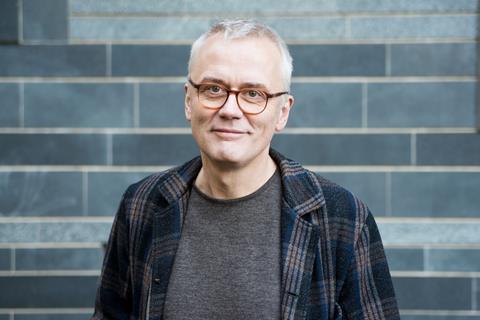 Running as a hybrid festival, Germany's 63rd DOK Leipzig (October 26-November 1) is the first under new artistic director Christoph Terhechte, an ex-critic who was head of the Berlinale's Forum section from 2001-2018 and artistic director of Marrakech International Film Festival for its 2018 and 2019 editions.
Terhechte took up the post at the start of the year, just before coronavirus took hold. This is one of the oldest documentary festivals in the world but none of his predecessors have had to put together a programme in the face of a pandemic. He has reduced the numbers of titles and has dispensed with an opening night.
"An opening film without an opening where we can invite a few hundred people did not make sense to me," he tells Screen.
As Leipzig has a relatively low rate of Covid-19 infections, the festival is hosting physical screenings in the city's cinemas, with the industry element taking place online. German audiences and accredited international guests will also be able to access most of the festival selection online.
World premieres in the international competition include Children from Israeli filmmaker Ada Ushpiz and Shelly Silver's Girls/Museum. The new Camera Lucida section, showcasing five unconventional films not in competition, includes the world premiere of Lamentations Of Judas from Dutch director Boris Gerrets, who died earlier this year.
Scroll down for the full line-up
Films in the international long documentary and animation film competition will compete for the Golden Dove, which comes with a €10,000 prize, and the Silver Dove for which the winner will receive €6,000.
Speaking to Screen a few days before the festival kicks off, Terhechte sounded invigorated by the challenges he and his team have faced in the run-up to this year's event.
Why were you keen to come to DOK Leipzig? Is documentary a particular passion?
Many years ago, there was a poll in a German newspaper among critics. The question was: "Do you cry when you go to the movies?" My answer was: "I only cry in documentaries." The aspect of documentary where you suffer with real people is something that fiction does not provide. In the [Berlinale] Forum, we always programmed about 50% documentaries. I have been a documentary programmer for many, many years. When I started in Marrakech, my condition was that I was allowed to introduce documentaries into the festival.
So yes, documentary has always been a passion of mine, as has animation. I am going to introduce a new competition for feature-length animation next year. I wanted to do it this year but under the current circumstances it seemed too tricky.
Can you discuss the new strand you've introduced?
Mainly I wanted to cut the programme down to a manageable size. During the selection, we found we didn't really have the space for these very original, formally challenging films that certainly have their place in competition as well but for which we needed an extra outlet. We created a very small programme, only five films, that we call Camera Lucida, named after the title of the Roland Barthes book on photography. That is the only really new programme although we created another competition as well where the jury is made of non-film business people.
You've also commissioned more than 40 shorts, all available on Vimeo, from directors with films in the festival.
We thought we had to offer [international] filmmakers a different interface to the festival because they can't come to Leipzig. This is also a great marketing tool for us to highlight the programme. People who watch the short films might check out the feature just because they love the short introduction. There are some beautiful ideas in there. We gave [the filmmakers] carte blanche. I think we will continue doing these things. It was fun for us and fun for the filmmakers.
Do you have any Covid-related films in the programme?
We saw several during the selection and decided to invite two: a British short, E14, by Peiman Zekavat and Tatiana Chistova's Bless You!, a film from St Petersburg set during the lockdown. It shows images from the deserted streets of the city and combines them with recordings of a hotline for old people who have no idea how to get the food or medical assistance they need.
Your industry programme is taking place online. Do you think this hybrid model will endure?
People have found there are ways of participating in festivals without burning kerosene and standing in queues at airports. Some people may not want to return to the whole mode of travelling the film industry was used to before this. I think people will be much more selective about where to travel and for how long. Festival hopping, two days here, three days there, is a thing of the past for most of us. In the future we will have to take that into account and offer possibilities of participating in the festival online, just like we do this year. There is no return to the old days, no return to the excessive way of travelling that we had.
But some sales agents have complained about how difficult it is to do business at virtual markets.
I guess that has to do with the market. The market used to be theatrical mostly and the market is suffering. I understand and I hear it. I was thinking less of the market element than of the co-production and pitching events that you can easily participate in online. It is not necessary to fly across the Atlantic to an event where all you do is sit in pitching sessions for two days and then return home. You can do that online.
Watching films, I myself much prefer to do that in cinemas. What we have to do is struggle to keep cinemas alive. When cinemas have to give up because of the pandemic – I am sure many will by the end of this winter – we'll have to ensure there are enough theatres left for festivals to happen theatrically.
DOK Leipzig takes place just before IDFA in Amsterdam. How competitive are you with each other?
We have films that were invited by IDFA and decided to go to Leipzig and the opposite also happened, which is normal. We are much less competitive this year. We realise in this crisis that we are all in the same boat. We are very transparent and friendly with one another. It's actually one of the good developments of this crisis that we have become much closer.
Do you find the documentary world different from the fiction world in terms of the way the market works, the budgets, the behaviour of the filmmakers?
It is much easier. The publicists and sales agents of documentaries have a genuine understanding of what it means to make documentary films. Things have changed a lot in the three decades that I have been in this business. I have been a journalist before [running festivals]. In the fiction world, it was much, much easier in the '80s or '90s. Access was not blocked by agents and publicists in the way it is now. When you went to Venice in the '80s, Donald Sutherland was sitting in a small cafe having a sandwich. You could sit down next to him and start asking questions. In Cannes, Robert Altman would appear in a bar at night and start talking to kids about his films. This kind of accessibility is no longer there, but it is still there in the documentary world.
The documentary world also has its stars. Frederick Wiseman is a good example. When he came to Berlin to show his films, he was always available, at the Arsenal cafe, friendly and accessible. Maybe documentary makers are closer to the real world, as quite a generalisation. I know a lot of fiction filmmakers who also search for that contact with their audiences but there is some difference.
Finally, which films in the selection made you cry?
One of the titles I would like to highlight is Ada Ushpiz's new film from Israel called Children. It's about Palestinian kids, really children, who have been used to commit attacks on Israeli civilians and soldiers and who, after spending time in jail, are released and go home. The filmmakers follow them and see that these are children without a childhood. It is heartbreaking, a point of view on this conflict that is extremely revealing.
DOK Leipzig 2020: International long documentary and animated film competition
The Annotated Field Guide of Ulysses S. Grant (US) – World premiere
Dir. Jim Finn
Camagroga (Sp)
Dir. Alfonso Amador
Children (Isr) – World premiere
Dir. Ada Ushpiz
Considering The Ends (Bel-Fr)
Dir. Elsa Maury
Downstream To Kinshasa (DRC-Fr-Bel)
Dir. Dieudo Hamadi
Girls/Museum (Ger) – World premiere
Dir. Shelly Silver
Joy (Rus) – World premiere
Dir. Daria Slyusarenko
The Poets Visit Juana Bignozzi (Arg)
Dirs. Laura Citarella, Mercedes Halfon
Roman's Childhood (Lith) – World premiere
Dir. Linas Mikuta
Their Algeria (Alg-Fr-Switz-Qat)
Dir. Lina Soualem
Truth Or Consequences (US)
Dir. Hannah Jayanti
Vicenta (Argentinia) – World premiere
Dir. Darío Doria
Camera Lucida - out of competition
Avalon (Thai) – World premiere
Dir. Thunska Pansi ivorakul
Everything That Is Forgotten In An Instant (Arg)
Dir. Richard Shpunto
Lamentations Of Judas (Neth-Fr) – World premiere
Dir. Boris Gerrets
To The Moon (Ire)
Dir. Tadhg O'Sullivan
Zaho Zay (Aus-Fr-Madagascar)
Dirs. Maéva Ranaïvojaona, Georg Tiller