INTERNATIONAL PREVIEW: The fifth Ice Age film, a new take on Tarzan and Steven Spielberg's Roald Dahl adaptation are among this weekend's international entrants.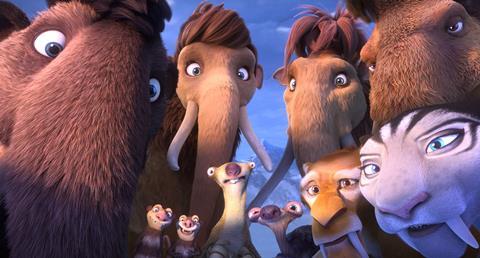 Starting what could be a massive roll out through Fox International, Ice Age: Collision Course (pictured) arrives in a handful of major international territories this weekend, three weeks ahead of its July 22 North American launch.
The 3D computer animated outing, the fifth installment in the Ice Age franchise, opened in Australia and Germany on Thursday (June 30) and reaches Mexico and the UK on Friday (July 1).
In summer 2012 the franchise's previous installment, Ice Age: Continental Drift, grossed $715.9m internationally, representing 82% of the film's $877.2m worldwide tally. Since the franchise began in 2002, each new installment has taken a higher percentage of its total gross in the international marketplace.
Big budget adventure The Legend of Tarzan also swings into its first international markets this weekend, opening through Warner Bros Pictures International in Korea, Russia and more than a dozen smaller markets within a day or two of its North American launch on July 1.
Produced by Warner with Village Roadshow Pictures and directed by David Yates, Tarzan lands on a total of around 6,450 screens in 19 international territories this weekend.
Also taking its first steps into the international arena at the same time as North America is The BFG, Steven Spielberg's family fantasy based on the Roald Dahl book. Walt Disney Studios Motion Pictures International, which is distributing in Asia-Pacific and Latin America (Mr Smith Entertainment has European distribution rights) opened the film on Thursday in Russia and Australia.
Making its worldwide debut in its home territory this weekend is Absolutely Fabulous: The Movie. The big screen take on the hit British comedy series, with stars Joanna Lumley and Jennifer Saunders reprising their TV roles, hits the UK on Friday.
Among international holdovers, Fox International's Independence Day: Resurgence expands into Spain on Friday. After its big day-and-date opening last weekend, the sci-fi sequel had amassed an international take of $116m as of June 28.
Fox International also opens Brooklyn in Japan on Friday. The flm's international take stands at $24.8m ($16.3m from Fox territories) as of July 1.
Central Intelligence, from Universal Pictures International, penetrates new markets incuding Australia, Mexico and the UK this weekend. The comedy had taken $14.3m internationally as of June 27.
Warner's The Conjuring 2, which had taken $155.7m internationally as of June 27, opened in France on Wednesday (June 29) and the studio's Me Before You, with $60.8m internationally by June 27, arrives in Spain on Friday.
As of June 30, Disney's Finding Dory had reached $130.9m internationally and the studio's Alice Through The Looking Glass $177m.