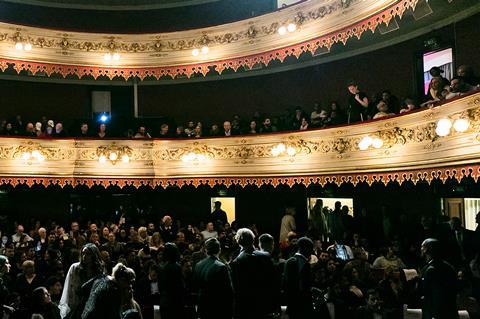 International Documentary Film Festival Amsterdam (IDFA), International Film Festival Rotterdam (IFFR) and Göteborg Film Festival are among 34 festivals receiving a total of €1.62m ($1.92m) funding under Creative Europe MEDIA's Film Festivals scheme.
The scheme is split into two sections – Action 1 and Action 2 – with the individual festivals under Action 1.
Göteborg is the largest single recipient at €75,000, while €63,000 awards go to Thessaloniki film and documentary festivals, Seville European Film Festival, IDFA, Nordische Filmtage Lübeck, CPH:DOX and IFFR.
Further recipients include Cork International Film Festival in Ireland, Lisbon Animation Festival in Portugal, and Germany's Braunschweig International Film Festival.
Action 2, a new addition to this year's programme, supports festival networks (as opposed to individual events) and makes total awards of €597,288. The four awardee networks include 23 festivals across 17 countries.
Creative Europe MEDIA 2020 awardees
Action 1
Göteborg Film Festival - €75,000
IDFA - €63,000
Sofia International Film Festival - €63,000
Seville European Film Festival - €63,000
Thessaloniki Documentary Festival - €63,000
Thessaloniki International Film Festival - €63,000
IFFR - €63,000
CPH:DOX - €63,000
Nordische Filmtage Lübeck - €63,000
Lisbon Animation Film Festival - €55,000
Braunschweig International Film Festival - €55,000
Cork International Film Festival - €55,000
Crossing Europe Film Festival Linz - €55,000
IndieLisboa International Film Festival - €55,000
FilmFestival Cottbus - €55,000
Animateka International Animated Film Festival - €46,000
Gijón International Film Festival - €46,000
Bergamo Film Meeting - €46,000
Les Arcs Film Festival - €46,000
Vilnius International Film Festival Kino Pavasaris - €46,000
Ljubliana International Film Festival - €46,000
Cinanima - €41,000
Festival International du Film d'Aubagne - €41,000
One World International Human Rights Documentary Film Festival - €41,000
Trieste Film Festival - €35,000
Zagreb Film Festival - €35,000
FilmFest Dresden - €33,000
International Short Film Festival Berlin - €33,000
Barcelona International Short And Animation Film Festival - €33,000
International Short Film Festival Nijmegen - €33,000
Brussels Short Film Festival - €33,000
Tbilisi International Documentary Film Festival - €27,000
Verzió International Human Rights Documentary Film Festival - €27,000
Leuven International Short Film Festival - €25,000
Action 2
European Children's Film Festival Network - €180,000
Doc Alliance - €179,688
Moving Images – Open Borders - €141,600
NoJSe 2020-2021 - €96,000