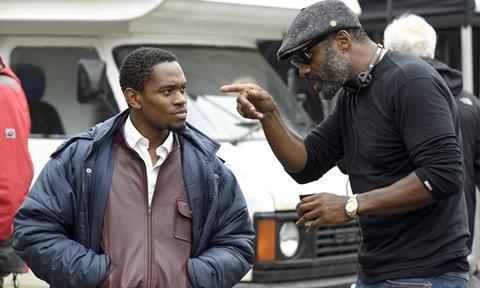 In 2015, Idris Elba was about to board a flight from London to LA when he bumped into fellow actor Aml Ameen. The two didn't know each other well but had met a couple of times before. The encounter would prove serendipitous.
After seeing Ameen in Maze Runner, Elba had wanted to get in touch with the rising actor's representatives to talk about the lead role in his directorial debut Yardie, an adaptation of Jamaican-born British writer Victor Headley's 1992 crime novel about a courier carrying cocaine from Jamaica to London who decides to go it alone and disappears into the mean streets of Hackney with a kilo of white powder. The thriller has a cult reputation in the UK where it proved a publishing hit.
"I was like, 'Oh right, I know Yardie,'" said Ameen, who is himself part Jamaican. "So we got on the plane and we started talking and he said: 'There's this character who was a bit of a villain in the book, but we need to make him digestible and relate to him as an audience. Let me send the script to your agents and stuff, and then have a read and see what you think.' I said, 'Look, mate. We're on an 11-hour flight, we're sitting right next to each other. I'll read it right now and I'll give you an answer right now'."
Soon after, 5,000 miles above the Atlantic Ocean, Ameen, enthused by the script and stirred by the part, confirmed he'd like to do it. Elba offered him the part there and then. The duo commemorated the moment on Instagram and that was that. Ameen recalls that the "icing on the cake, given that Yardie has been compared to Scarface" was that Al Pacino was sitting a few rows in front of them.
"That was a very happy accident," laughs Elba about casting Ameen. Three years later Yardie is getting its world premiere this weekend at the Sundance Film Festival.
The film is a winner. Clearly inspired by 1980 cult drama Babylon (screenwriter Martin Stellman worked on both), it is a refreshing, entertaining and suspenseful cat and mouse gangster thriller full of impressive acting and great music. In particular, Ameen shines opposite magnetic newcomer Shantol Jackson.
Why Yardie?
The film's journey to screen began many years before Elba's chance meeting with Ameen. Novelist Headey had been trying to get a film adaptation off the ground for some time.
But it wasn't until UK production outfit Warp optioned the novel in 2010 and got backing from Studiocanal that the project gained serious momentum. Bronson writer Brock Norman Brock joined soon after and Elba followed.
"I read the book as a teenager," The Wire star recalls. "It moved me at the time."
"There were many touchstones," he expands. "I've been vocal about how much Hackney and that part of east London influenced me as a young man so making a film about someone I can relate to made it easier for me. I could put a lot of myself into it. I could almost imagine the audience who might respond to the film."
Elba's film, much of which is acted in a lyrical Jamaican patois, has a strong musical element with reggae and dancehall nourishing the narrative. While in London, the film's main character D hooks up with a soundclash crew. Elba himself has been a DJ from a young age. On the decks he is known as DJ Big Driis or Big Driis the Londoner.
"The film's DJing component felt autobiographical to me," the actor-filmmaker confirms. "The fascination for sound-systems and how sometimes being immersed in sound is like following a football team – you wear your colours with pride – that's something I can relate to."
Elba is even planning an album called Yardie made up of reggae music inspired by the film. (The term Yardie has multiple meanings depending on context; it can simply mean a Jamaican national, but it was also used by UK police in the 1970s to describe Caribbean gang members.)
Transition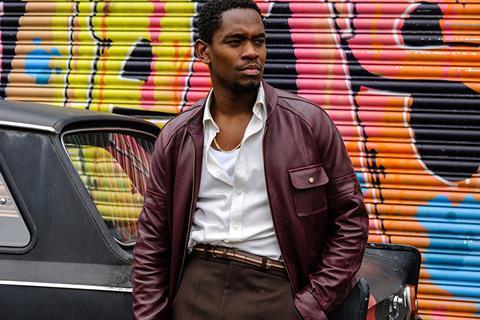 While casting Ameen turned out to be a relative cinch, finding the film's female lead proved more challenging. Elba initially tried to cast the role out of the UK but no one was quite right so Elba flew to Kingston to find his Yvonne.
One of the first actresses he met was Chantol Jackson who had sent Elba audition tapes.
"Chantol was the second or third actress I saw in Jamaica," recalls Elba. "She won the job in the room. She was amazing."
Other inspired casting included Sheldon Shepherd — an actor little known outside of Jamaica — as manipulative, imposing gang boss King Fox, and This Is England and Boardwalk Empire star Stephen Graham as the film's central villain Rico, a character who slips between patois and cockney.
Graham's performance is singular. It occasionally jars, but it also intrigues by being counterintuitive. Elba wanted a distinctive, memorable performance, something off kilter, and Graham, who probably unbeknownst to many viewers is himself part Jamaican, delivers.
Elba agrees that Yardie could be a springboard for a number of his cast, especially those who are less well known outside Jamaica.
"The actors took my note that I didn't want any lying on screen," he recalls. "That's a disconcerting thing for a director to say. I was asking them to bear themselves."
Elba was initially due to have a supporting role in the film.
"I was going to play Piper, the character who paints the mural at the beginning," he confesses. "That character was slightly bigger in the script. But I quickly found it impossible. I'm one of those people who needs to concentrate on one thing at a time and nail that. As an actor you work in isolated scenes but as a director you need to know everything all the time. I was answering 25,000 questions a day."
Luckily for him, his team played nice. "Dealing with actors, they can be your lifeline or they can make your life miserable," he admits. "My cast wanted to make my life easy."
What would those actors say was his main strength as a director?
"Probably that I could communicate my ideas articulately and that I welcomed ideas," he guesses. "I'm highly self-critical but when someone criticises me or steers me I can deal with that. I'm pragmatic, I'm a communicator. You could ask me a question and I don't mind taking 20 minutes to sit down and discuss it. Directing has made me realise that I need to be a much nicer person as an actor. It's very hard on set when actors are difficult."
Waves
Elba has been an outspoken critic of the UK film and TV sector's lack of diversity. Yardie touches on London's strained race relations in the 1980s, but Elba intentionally held back from making his first film a polemic about race.
"I didn't want to make a film about race and I didn't want to make a film that was overly politicised," he acknowledges. "It was important for me not to send too many messages. Although this story is encased in Jamaican culture, my goal was to make this feel like a universal and relatable story."
That said, Elba is also aware how refreshing it is to see a commercially-oriented UK film from a black director with a largely black cast being backed by industry pillars such as the BFI, BBC Films and Studiocanal. That combination remains a rarity.
"I want there to be more waves in British cinema and more waves in Afro-Caribbean cinema," he admits.
Yardie is a film which makes waves in its own way.
Meanwhile, the social justice movement making most waves right now is the one driven by the many brave women who have come forward to expose harassment in the entertainment industry.
"It's very timely," reflects Elba on the upheaval and the #MeToo and #TimesUp campaigns. "If I'm honest, I'm avoiding comment about it, because this isn't an opportunity just to voice something; this is an opportunity to make change. The people and actors who are leading that dialogue are the ones who should talk about it and they are doing that. But it is certainly timely."
Future
Following his experience on Yardie, does Elba have the directing bug?
"Definitely," he confirms.
"I want to do a musical next. I'd like to do a musical with modern music. No orchestra. An 'all-singing, all-dancing' musical but with dance and electronic music. I'm going to try to provide some of the soundtrack for it though there'll be enough talent on the soundtrack already. I'd also act in it. The idea is complicated. I've given myself a development period of around a year and then I'll be ready. I've got a development fund I'm working with but no other financiers yet."
Elba is currently filming a fifth series of hit BBC series Luther and will be seen this year in Sky comedy series In The Long Run. He quashes the prospect of appearing in a TV version of Sony fantasy The Dark Tower, which he says isn't on the horizon, and says that a film version of Luther is still in early development. He is also soon to be announced in a major US project but details are still under wraps.
No interview with Elba would be complete without the obligatory question about James Bond, of course. Few actors have been associated as often in the media with a major role as Elba has been with 007.
Has the actor ever even been approached to play the character?
"I've never been approached to play Bond," he confirms. "I don't know where that smoke has come from. I think it was Daniel Craig's idea in the first place," he muses.
Would he like to play the role?
"For every actor that's a pinnacle role, but at this point it has become a bit of a farce. I really don't know. I'm numb to it now. It's not a real question at this point."