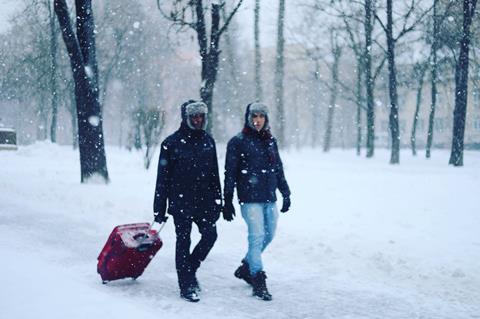 Panamanian writer-director Arturo Montenegro of Panama-based Q Films has showcased the first trailer from his football comedy Frozen In Russia.
Montenegro completed principal photography in January in Portobelo in Panama following a three-week shoot in Russia, where he was granted permission to film in Moscow's hallowed Red Square as well as the city's subway system.
The Panama-Russia co-production also shot in Moscow's Luzhniki Stadium, where this summer's World Cup final will take place, and in parts of Saint Petersburg. Montenegro recorded the score with an orchestra in Macedonia. His Q Films is producing with Russia-based Fernando Moreno, and Prolatsa will distribute in Panama.
"It was a wonderful experience to shoot in Russia," Montenegro told Screendaily at IFF Panama, where he presented the trailer. "The Latino flavour mixed with the Russian austerity has delivered some fun results. I'm so happy."
Montenegro will launch international sales in Cannes on Frozen In Russia, which centres on football fanatic Jamal, who promises Panama's famous wooden statue of Jesus Christ known as Portobelo's Black Christ that he will marry a Russian girl if Panama qualifies for the 2018 World Cup.
When the Black Christ demands he find a wife before 'la sele' plays their final game, Jamal sells all his belongings and heads to Moscow in search of love.
The feature is timely given that the Panamanian national team has qualified for its first World Cup this summer in Russia and will contest Group G with England, Belgium and Tunisia.
Montenegro is also moving ahead with his next project, which now bears the name Mrs Lizzie (La Señora Lizzie). The previously announced project is based on the life of Guillermo and Rina Compagnie, a Panamanian married couple who are taking on Panama's same-sex marriage ban as Guillermo prepares for sex reassignment surgery after two decades of marriage.
The Panamanian filmmaker is looking for investors and co-production partners ahead of a possible production start this year.