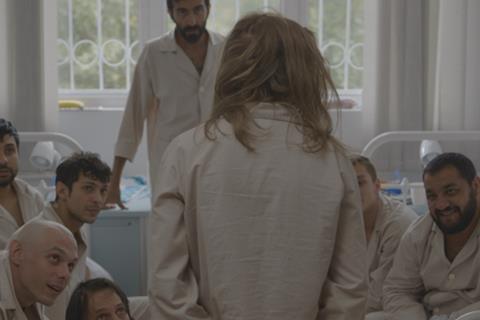 Romanian directorial duo Monica Stan and George Chiper-Lillemark have won the main prize, the GdA director's award, of the Venice film festival's Giornate degli Autori.
The 18th edition of the GdA showcased 10 films in its feature competition. The director's award carries a cash prize of €20,000, to be split equally between the director and the international distributor of the film.
A semi-autobiographical work, Imaculat is about a young drug addict who enters rehab where her youth and perceived innocence give her a special status among the older patients, but she learns it comes with a price.
The award was assigned by the 27 Times Cinema jury, comprised of young representatives of every country in the European Union and co-presided over by Bulgarian filmmakers Mina Mileva and Vesela Kazakova.
Karlovy Vary International Film Festival artistic director Karel Och oversaw the deliberations.
"Dealing as it does with other issues like toxic relationships and abuse, Imaculat epitomises, in our view, everything that cinema should be: a mirror held up to society, a society in which women are cornered into the claustrophobia of subjugation. Imaculat is a cri du coeur that urges us to confront one another, feel our shame, anger, and desire to fight for a better world," the young jury said in a joint statement.
"As young people ourselves, we believe that this powerful film is also as fragile as its characters, and we aspire to be its ambassadors in order to make its voice known, thanks to the GdA director's award we are pleased to bestow on it."
It is Stan's feature directorial debut while Copenhagen-based Chiper-Lillemark's director credits include a number of shorts and feature documentary The Man Who Would Be Free. He is also renowned as a cinematographer, with credits including Golden Bear winner Adina Pintilie's Touch Me Not.
Imaculat is produced by Marcian Lazăr at Axel Film and received backing from the Romanian Film Centre. Syndicado is handling international sales.
Further prizes
In the GdA's other key prizes, Italian Berlin-based director Alessandro Cassigoli and US filmmaker and journalist Casey Kauffman won the Europa Cinemas Label as best European film in the selection. A debut fiction feature for both filmmakers, it follows around a young street-wise Moroccan girl from the age of nine to 14-years-old as she makes her way in a small town in Southern Italy.
Under the award, the film will benefit from promotional support within the entire Europa Cinemas network.
The jury consisted of professionals in the independent exhibition sector from across Europe: Federico Babini (Spazio Alfieri, Florence, Italy); Piotr Czerkawski (Kino Nowe Horyzonty, Wrocław, Poland); Meryl Moser (Cinérive S.A., Vevey, Switzerland) and Andrea Stosiek (Sputnik Kino, Berlin, Germany).
They described their choice as a "unanimous" one.
"It is tender, humorous, and hard at times, but positive too. This is the directors' first fiction film, but their documentary roots shine through to create a very involving and uplifting film. Finally, we want to congratulate the central performance of the young actress – Khadija Jaafari – the real engine of the film," they said in their joint statement.
Sold internationally by Fandango, Californie is produced by Damiano Ticconi at Ang Film with the support of RAI Cinema, and co-produced with La Mansarde Cine.
In further awards, Brazilian director Aly Muritiba won the BNL People's Choice Award assigned by the Sala Perla audiences and documentary Senza fine by Elisa Fuksas and Francesco Lettieri's closing film Lovely Boy clinched SIAE awards for creative talent.