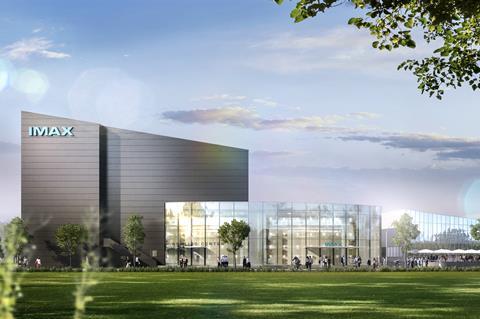 IMAX Corporation and independent German theatre operator Lochmann Filmtheaterbetriebe have announced an agreement to build the largest IMAX screen in the world at the Traumpalast Leonberg multiplex in Leonberg.
The new theatre is expected to open in 2020 and will feature IMAX's laser experience and an estimated 38-metre screen. Wednesday's (10) announcement builds on IMAX's recent momentum in Germany, where the company now has 10 theatres open or contracted to open.
The deal marks IMAX's first with an independent cinema operator in Germany, which has traditionally been a difficult market for the company to penetrate. However recently the market has shown signs of improvement for IMAX. In 2018 it grew its commercial theatre network from two to six as overall IMAX box office climbed nearly 30% over 2017.
New IMAX theatres with partners such as UCI Kinowelt (part of Odeon Cinemas Group), have become some of the top grossing sites in the country. An additional theatre is set to open with UCI Kinowelt.
IMAX box office in Germany through March is currently up nearly 100% on the same period last year, with an upcoming slate that includes Avengers: Endgame, which was shot entirely with IMAX cameras. Captain Marvel marked the highest opening weekend ever for IMAX in Germany on $250,000 from seven locations.
"Global demand for The IMAX Experience is stronger than ever as shown by our recent performance and growth in Germany," said IMAX CEO Rich Gelfond. "Now, through our new partnership with the Lochmann Filmtheaterbetriebe, the largest IMAX theatre in the world will reside in Germany and serve as a premium entertainment destination in the country. We look forward to continuing to provide audiences across Germany a truly differentiated blockbuster experience."
"If you want your guests to come back to your theatre, you have to offer them an unforgettable experience," said Heinz Lochmann, head of Lochmann Filmtheaterbetriebe. "Cinemas are where dreams come to life and where audiences come to relax and be totally immersed in the movies they love. There is nothing like IMAX when it comes to delivering the world's most immersive cinematic experience."
Marius Lochmann, junior director at Lochmann Filmtheaterbetriebe, added: "We are so proud that we can bring the outstanding IMAX experience to Leonberg. It's the next step on our way to more innovation and more quality in our cinemas."
IMAX's 4K laser projection system features a new optical engine and suite of proprietary technologies that, the company says, delivers increased resolution, sharper and brighter images, deeper contrast as well as the widest range of colours available to filmmakers.
The new system will also feature IMAX's 12-channel sound technology that incorporates new side and overheard channels to deliver greater dynamic range and precision for ultimate audio immersion and sound you can feel.