The agreement will see 150 additional sites built across the territory, upping IMAX China's total screen count to 742.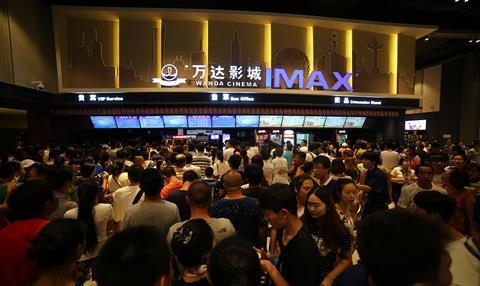 IMAX and Wanda Cinema Line have signed a deal for 150 additional theatres to be built across China over the next six years, marking IMAX's biggest theatrical deal to date.
The deal is in addition to one struck in 2013, which saw Wanda commit to build 120 theatres by 2020.
Wanda opened its first IMAX theatre in China in 2007. The company, which is China's largest cinema operator, operates more than 160 IMAX sites in the territory.
Screen reported in October that China was set to become IMAX's largest territory in the next three years. The new agreement strengthens that claim and increases IMAX China's backlog nearly 60% to 407, which will boost its overall screen count to 742 (360 of those will be operated by Wanda).
Nearly half of the new-build theatres will be equipped with IMAX's laser projection technology.
Since 2013, IMAX and Wanda have also been collaborating on local-language Chinese releases including 2015's Mojin: The Lost Legend, which is the highest-grossing local-language film ever release in IMAX.
Blockbuster fantasy Warcraft, produced and distributed by Wanda-owned Legendary Entertainment, broke IMAX records in China this year, taking $5.3m in ticket sales on its first day and $20m across its opening weekend.
IMAX CEO Richard Gelfond commented on the deal: "This is a landmark development in IMAX's history and a strategic linchpin in our growth strategy, particularly as we've seen over time that signings lead to installs, higher box office and ultimately more revenue."
Wanda Cinema Line's president John Zeng added: We cannot overstate the strategic importance of our IMAX relationship. Our partnership has been instrumental to Wanda's tremendous growth and our track record as China's box-office market leader for seven years running."
The agreement follows news last month that US exhibitor AMC entertainment, which is owned by Wanda, will purchase Europe's largest cinema chain Odeon & UCI Cinemas, a move which made Wanda the de facto largest cinema operator in the world.
On Monday, Wanda announced an expanded relationship with US technology provider RealD for the installation of 5,600 screens across China by 2020.