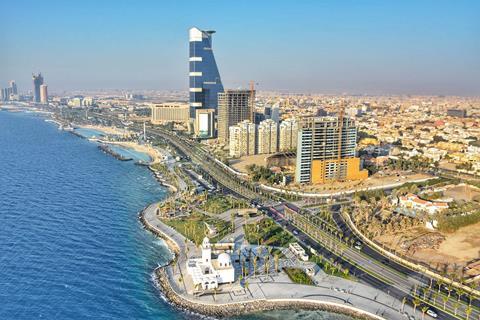 The inaugural edition of Saudi Arabia's Red Sea International Film Festival will take place from November 11- 20 this year, the Jeddah-set event has announced.
The event, which is Saudi Arabia's first international film festival, was first announced in March 2019 following the lifting of the country's 30-year cinema ban at the end of 2017.
Its first edition was to have taken place last March but was cancelled just a week before its scheduled start date due to the worsening Covid-19 health situation around the world.
Under this second attempt, the inaugural edition will launch with the theme of "Metamorphosis".
"It reflects on the festival's local context: the impact of cinema's triumphant return to Saudi Arabia since 2019, as well as the blossoming local and regional film scenes, exploring how cinema culture can create an interface connecting a new, outward-looking Saudi and the world," the festival said in a statement.
In other news, film journalist and critic Kaleem Aftab has been named as director of international programming for titles in the competition, out of competition, and other thematic categories.
Aftab joins managing director Shivani Pandya and director of Arab programmes and film classics Antoine Khalife, who both previously worked at the Dubai International Film Festival.
A new artistic director has yet to be announced following the departure of Saudi film director Mahmoud Sabbagh, who stepped down from the role last July after the first edition was cancelled.
Saudi producer Jumana Zahid remains in place as head of the Red Sea Lodge, the project and talent incubator for Saudi and Arab filmmakers of the festival's parent Red Sea Film Festival Foundation.
The Red Sea Souk, the festival's industry platform for distributors, sales agents, and producers, is overseen by Zain Zedan. The senior team, which has a 50/50 gender split, is completed by Ibrahim Modir as head of operations. Members of the Red Sea Team will be participating in the virtual EFM this year.
The inaugural edition of the Festival will take place in the UNESCO world heritage site of Jeddah Old Town.