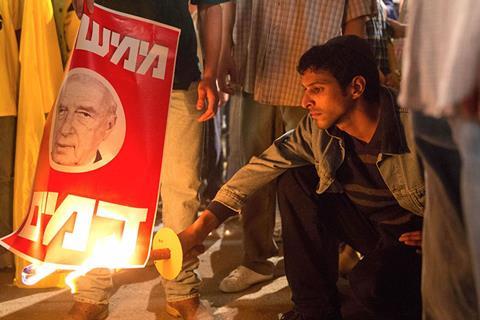 In its annual ceremony last night (Sunday, September 22), the Israeli Film Academy selected Yaron Zilberman's Incitement as best picture; it will, therefore, be Israel's candidate for best international feature at the 2020 Oscars.
The film, which premiered at the Toronto Film Festival, depicts the infamous 1995 assassination of Premier Itzhak Rabin, presented through the worldview of his assassin.
Six years in the making, the title had been rejected by all Israeli film funds because of its subject matter and was finally brought to screen without any state subsidies by Metro Productions, Opening Night Productions, WestEnd Films and Sunshine Films.
It touches on how right-wing propaganda and orthodox rabbis were blamed for inciting hatred against Rabin and has been opposed by Culture Minister Miri Regev, who called the film "unnecessary" and accused it of intentionally distorting the truth.
Originally nominated for ten Ophir awards, Incitement picked only one more, for the casting. Main competition came from Chained, the second part of Yaron Shani's Love Trilogy, awarded best director and best actor (Eran Naim).
Nominated in fourteen categories, Eliran Malka's HaBilti-rishmi'im (The Unrecognized), won 4 Ophirs, for editing, art direction, costumes and make-up.
Best script went to Samech Zouaby for his satire Tel Aviv on Fire, while Gour Bentwich's Strawberries And Cream collected the two supporting part awards for Dover Kozashvili (better known as a filmmaker) and Hadas Ben Aroya. Liron Ben Shlush was voted best actress for her performance in Working Woman, Michal Aviad's feminist festival favourite, which has been widely presented around the world.
Mosh Danon, the Academy's president, pledged that a rule allowing films not yet released theatrically to run for the Ophirs will be corrected soon. This applied to Incitement, which is released in Israel on September 26.