JUNE 27 UPDATE: Now You See Me 2 records Lionsgate's biggest-ever opening in China with $44.4m.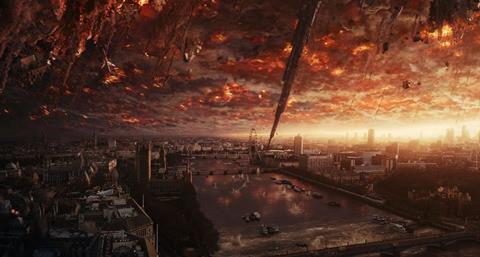 FOX INTERNATIONAL
UPDATE: Independence Day: Resurgence landed with a $100.2m international debut from its 58 markets, opening top in 40 of them.
Fox's long-awaited sequel might not have charted top in North America, but it grabbed the number one spot in the likes of South Korea ($7.3m from 926 screens), Mexico ($6.8m from 2,783) and Taiwan ($3.6m from 300), while its chart-topping $3.5m bow in India was the biggest-ever for Fox in the market.
Its leading overseas market was China with $37.7m, which marks the fourth highest-grossing weekend for Fox in the market. The sequel grossed $6.4m from 294 IMAX screens in China.
At IMAX screens overseas, Independence Day: Resurgence grossed $10.8m from 533 screens to mark the best-ever opening international weekend for a Fox release in IMAX.
The film opens in 11 new markets next weekend, including Spain and Sweden.
X-Men: Apocalypse and Deadpool stand at $374.6m and $419.5m overseas, respectively.
LIONSGATE INTERNATIONAL
UPDATE: Now You See Me 2 conjured up a further $52.2m from its 55 markets for $108.3m to date overseas.
The majority of its weekend came from an impressive $44.4m debut in China, topping the chart ahead of Independence Day: Resurgence and local title Three. It marks Lionsgate's biggest-ever opening weekend in China.
Summit Entertainment's sequel still has major releases to come in the likes of the UK (July 4), South Korea (July 14) and Mexico (July 22).
Gods Of Egypt opened with $821k in Spain and now stands at $113.2m overseas.
WALT DISNEY STUDIOS MOTION PICTURES INTERNATIONAL
Finding Dory swum to an estimated $37m second weekend from its 37 territories for $110.3m to date overseas.
Disney/Pixar's latest posted chart-topping debuts of $4.8m in Spain and $4.5m in France, while the animation added $6.1m in China for $30.2m to date and will soon become the biggest Pixar release in China ever, currently Monsters University's $32.5m.
Elsewhere, the film fell only 30% in Australia for a local tally of $15.2m and achieved the biggest-ever opening for a Disney/Pixar animation in New Zealand, as well as leading the chart in the likes of Argentina, Belgium and Venezuela.
Pixar's 17 films have now grossed more than $10bn globally, starting with Toy Story in 1995. Finding Dory opens in Brazil and the Netherlands next weekend.
Alice Through The Looking Glass sailed to an extra $3.1m from its 45 territories for $174.5m so far internationally, ahead of its opening in Japan next weekend.
The Jungle Book and Zootopia now stand at $571.5m and $676.2m, respectively, overseas and $929.5m and $1.02bn worldwide.
WARNER BROS PICTURES INTERNATIONAL
UPDATE: Opening in Italy with a chart-topping $1.1m, The Conjuring 2 scared up an additional $20.6m from its 9,016 screens for $155.7m to date.
The UK led the holdovers with a $2.3m second weekend for $11m so far, while Spain delivered $974k for $3.8m, Germany grossed $1m for $3.5m and South Korea added $1.8m for $11.5m after three weeks in play.
New Line's horror sequel creeps into France next weekend.
Me Before You continued its excellent overseas run with $18.1m for $60.8m to date.
The adaptation ranked number one in Germany with a terrific $3.2m debut from 509 screens and posted a strong $3.8m bow in Mexico to chart second, while it fell only 20% in Brazil with a $2.7m second weekend for a local tally of $8.2m.
Me Before You opens in Spain on July 1, Russia on July 7 and Italy on Sept 1.
UNIVERSAL PICTURES INTERNATIONAL
UPDATE: The Secret Life Of Pets is off to an excellent start with an overseas debut of $14.2m in its two launch territories of the UK and Norway.
Illumination Entertainment and Universal Pictures' animation scored a terrific preview-boosted $13.4m debut in the UK. Meanwhile, in Norway, it grossed an excellent $778k from its 108 dates and in both territories, it defeated Independence Day: Resurgence.
The Secret Life Of Pets opens in Hong Kong, Israel, Taiwan and Vietnam next weekend.
Legendary and Universal Pictures' Warcraft has crossed the $400m mark worldwide to stand at $412.9m.
Overseas, the adaptation marched to an extra $5.8m from its 56 Universal territories and combined with its Chinese haul of $221.7m, it stands at $368.9m ahead of its openings in Argentina, Chile, Colombia, Panama, Peru and Japan next weekend.
Central Intelligence shot to $4.8m from its 28 territories for an early $14.3m overseas.
New Line Cinema and Universal Pictures' action-comedy opened in South Africa and Peru with $374k and $253k, respectively. It opens in 13 territories next weekend, including the UK and Mexico.
Neighbors 2 stands at $45.8m internationally and has cross the $100m mark at the global box office.
MEDIA ASIA
Johnnie To's thriller Three opened with an estimated $9.5m from its three territories, including China, according to ComScore.
PARAMOUNT PICTURES INTERNATIONAL
With one new opening in Turkey, Teenage Mutant Ninja Turtles: Out Of The Shadows added $3.6m from its 51 markets for $76.8m to date.
Its best holdover came with an $880k second weekend in Brazil for a local tally of $4.3m. The sequel lands in France next weekend, before its Chinese release on July 2.
SONY PICTURES RELEASING INTERNATIONAL
The Angry Birds Movie flew to a further estimated $2.8m from its 79 markets for a $228.7m overseas haul.
Holding well in Japan for $2.5m to date, Money Monster uncovered $1.5m from its 71 markets for $45m so far. It opens in Spain on July 8 and South Korea on Sept 1.