EXCLUSIVE: The sales company will introduce the Ibiza-set crime thriller alongside four other films on its slate.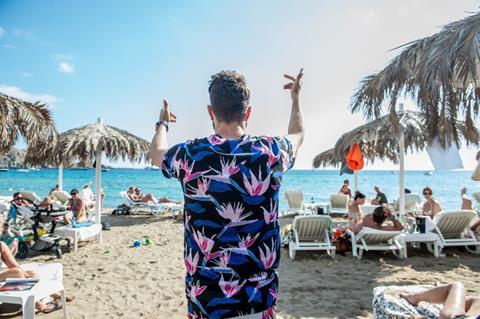 London-based sales outfit Independent has finalised its slate for the forthcoming EFM (Feb 11-19), including Ben Turner's White Island [pictured], a comic crime thriller set in the Ibiza dance music scene.
The film, which is in post-production, was previously titled A Bus Could Run You Over and is based on the novel of the same name by British author Colin Butts.
Leo Pearlman (The Class Of 92) is producing the project for Fulwell 73 alongside Danny Potts and Heather Greenwood. The cast includes Lyndon Ogbourne (Emmerdale), Joel Dommett (The Edge Of Love) and Billy Zane (Titanic).
The story follows an ex-DJ who is dragged back to Ibiza by his best friend and faces getting entrapped by the seductive danger of the island.
Also on Independent's EFM slate are two documentaries: I Am Bolt, Ben and Gabe Turner's film about six-time Olympic gold medal winning sprinter Usain Bolt, and the currently untitled documentary about Britpop band Oasis, which will be helmed by Mat Whitecross (The Road To Guantanamo) and counts Amy director Asif Kapadia among its executive producers.
Completing the company's line-up are Billy O'Brien's (Isolation) supernatural thriller I Am Not A Serial Killer, which is premiering at SXSW, and a currently untitled boxing film which will be directed by Thomas Napper, feature music from Paul Weller, and star Ray Winstone and Michael Smiley; BBC Films are financing the project, which is set to begin production on February 29.