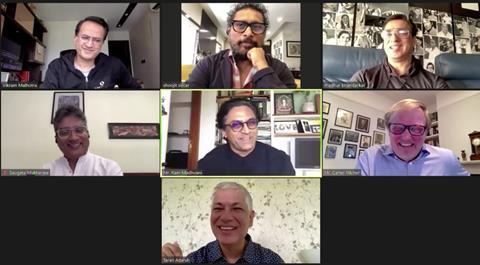 India's theatrical market is not going anywhere, despite the current trend for theatrical films to premiere on OTT platforms, said speakers on a panel at the on-going virtual edition of FICCI Frames (July 7-11).
During a session entitled 'Changing Theatrical Windows – Direct To OTT', director-producer Shoojit Sircar said he had no other option apart from releasing his latest film, Gulabo Sitabo, on Amazon Prime Video, as Indian theatres have been closed since mid-March due to the Covid-19 pandemic and there's a limit to how long any producer can sit on a film.
"Of course it was conceived and shot for theatrical release, as a filmmaker I can't think of making a film without a theatre, but the release was set for April 17 and we all know what happened," Sircar said. "We thought there would be a bottleneck [when cinemas finally reopen], and we didn't know where and when my film would eventually be placed, but every film has a shelf life and there's the issue of freshness to also consider."
Vikram Malhotra, founder of Abundantia Entertainment, which is premiering Anu Menon's Shakuntala Devi on Amazon Prime Video, concurred the film was also conceived for theatrical distribution (with a date set for May 8), but with theatres closed, there was no alternative but to release it online. He added that Amazon had treated the film with "the same respect as a theatrical release" and it had reached 200 markets rather than the 20 or so territories usually covered by a traditional diaspora release for a Hindi-language film.
"We wanted to take the film to global consumers of Hindi content when it was still fresh, not 12-14 months later, and give them the opportunity to engage with that content when not much else was coming their way, " said Malhotra. "Plus an investment has been made, and there's a whole value chain from the director and lead talent to the spot boys and other crew members, for whom it's beneficial to be compensated on time."
Gulabo Sitabo, starring Amitabh Bachchan and Ayushmann Khurrana, and Shakuntala Devi, a biopic of the Indian maths genius of the same name, are among seven titles that are premiering on Amazon, prompting an immediate backlash from India's shuttered cinema chains.
Rival streaming platform Disney+Hotstar has also announced that it is premiering several films initially intended for theatrical release, including Dil Bechara, starring late actor Sushant Singh Rajput who recently took his own life, and Laxmmi Bomb, starring Akshay Kumar. Netflix has been producing its own Indian-language movies, but also recently picked up Gunjan Saxena: The Kargil Girl, starring Janhvi Kapoor.
However, the speakers agreed that OTT premieres of theatrical titles is only a temporary solution and that Indian filmmakers still wanted to see their work on the big screen. "This is definitely just a phase, and whenever the vaccine comes along, theatres will remain as strong as ever, just as they did after the launch of cable TV," said director-producer Madhur Bhandarkar (Fashion, Traffic Signal). "We just need to be pragmatic – if you're only making one film at a time, and need the returns for your next project, then of course you need a way to recoup."
SonyLIV's head of original content Saugata Mukherjee, the only representative of India's streaming platforms on the panel, agreed with the filmmakers that "theatres are not going anywhere" and there will always be "spectaculars that do need the theatre", but he added that "a certain kind of film can find a first window on OTT platforms rather than theatres". The speakers also discussed how crowded India's theatrical releasing calendar can be during normal times – with only 52 weekends in a year but a flood of content from the Hindi and regional-language film industries, as well as US studio titles and other films from overseas.
Ram Madhvani, a film director whose first drama series Aarya recently premiered on Disney+Hotstar, outlined several reasons why Indian filmmakers have been experimenting with episodic formats in the past few years, including more freedom from censorship and avoiding the tyranny of immediate judgement on opening days. "My first thought was that I could escape the Friday mafia, who might tell me I'm just a one-film guy, as we can spend several years on one project and have our careers destroyed in just one day," said Madhvani. "But of course, now I have to consider the Season Two mafia."
Carter Pilcher, CEO of the UK's Shorts TV, explained how the short film medium is gaining traction on streaming platforms and helping to build the brand of individual filmmakers, even with star-obsessed Indian audiences: "We just launched an app with 4,000 shorts, which we're testing in the US, and we're seeing some directors build a huge following. [Indian director] Anurag Kashyap makes a lot of short films and we see audiences following him as a director, rather than focusing on stars."
FICCI Frames is running until July 11 with upcoming sessions exploring the impact of Covid-19 on the media industry, international distribution of Indian content and how Indian cinemas will cope with social distancing measures when they finally reopen.