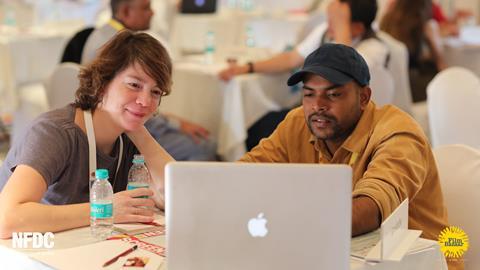 Film Bazaar, organised by India's National Film Development Corporation (NFDC), has announced the 14 projects that will take part in the Co-production Market at this year's edition of the annual Goa-based event (November 20-24).
The diverse selection will present projects from India, Bangladesh, Bhutan, France, Nepal, Singapore and the US. Languages involved in the projects include Hindi, English, Bengali, Malayalam, Assamese, Nepali, Dzongkha (Bhutanese) and Gujarati.
The line-up also includes projects from newcomers and more established talents, such as Indian director Alka Raghuram (Burqa Boxers) and Bangladeshi filmmaker Rubaiyat Hossain (Made In Bangladesh), who is one of the producers on Mahde Hasan's Sand City, along with France's Les Films de l'Apres-Midi.
Film Bazaar's Co-Production Market is a financing and co-production event for projects from South Asian countries. Film Bazaar also runs a Work-in-Progress Lab, Producers Lab, Viewing Room, Industry Screenings and Knowledge Series seminar programme.
FILM BAZAAR 2019 CO-PRODUCTION MARKET:
TITLE / LANGUAGE / COUNTRY
Aamar Xokolure Bhaalpowa (All Our Loves) / Assamese / India
Director: Mehdi Jahan
Producer: Heer Ganjwala, Human Trail Pictures
Anantah (Eternity) / Nepali / India
Director: Saurav Rai
Producer: Sanjay Gulati, Crawling Angel Films
Ayna (The Mirror) / Hindi / India
Director: Alka Raghuram, Junoon Pictures
Producer: Celine Loop, Traveling Light Productions
Eka (Solo) / Bengali / India, Bangladesh, France
Director: Suman Sen
Producer: Bijon Imtiaz & Arifur Rahman, Goopy Bagha Productions
Ettemedam (The Deathplace) / Malayalam / India
Director: Jiju Antony
Producer: Shaji Mathew, Niv Art Movies
Feast / English, Hindi / Singapore, India
Director: Leon Cheo
Producer: Jen Nee Lim, Pilgrim Pictures
Home Of The Rain Catcher / Hindi / India, US
Director: Vikas Khanna
Producer: Jitendra Mishra, Bindu Khanna & P Kaul, House of Omkar
I, The Song / Tibetan / Bhutan, France
Director: Dechen Roder, Dakinny Productions
Producer: Thinley Choden, Dakinny Productions
Indreni Pari (Across The Rainbow Bridge) / Nepali / Nepal
Director: Niranjan Raj Bhetwal, Icefall Productions
Producer: Ram Krishna Pokharel, Icefall Productions
Sabras (Salt) / Gujarati, English / US, India
Director: Sushma Khadepaun
Producer: Andrea Kuehnel, Leitwolf Filmproduktion
Sand City / Bengali / Bangladesh
Director: Mahde Hasan
Producers: Rubaiyat Hossain (Khona Talkies), Aadnan Imtiaz Ahmed (Cinema Cocoon), Francois D'artemare, Les Films de l'Apres-Midi
The Displaced / Hindi / India, Canada
Director: Vijay Jayapal
Producer: Mathivanan Rajendran, Stray Factory
Schirkoa / English / India
Director/Producer: Ishan Shukla, Ishan Animation
Varna Heights / Hindi / India, US
Director: Rajan Khosa, Elephant Eye Productions
Producer: Meraj Shaikh, Wingman Pictures