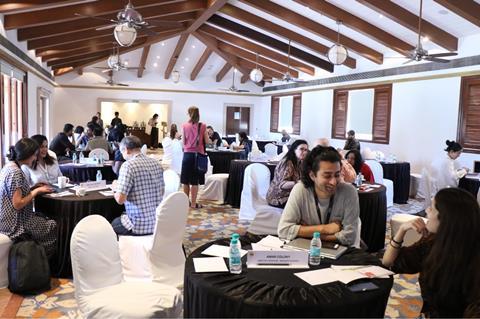 Film Bazaar Online, hosted by India's National Film Development Corporation (NFDC), has announced the 20 projects selected for this year's Co-Production Market (CPM), one of the key programmes of the event, which is taking place virtually November 20-25.
The 20 projects originate from 11 countries and feature a diverse range of Indian and European languages including Assamese, Bengali, English, German, Hindi, Kannada, Konkani and Malayalam (see full list below).
Among filmmakers pitching projects at the event are Nithin Lukose, whose last feature, Film Bazaar 2020 project Paka – River Of Blood, premiered at this year's Toronto International Film Festival; Nikhil Mahajan, who has won acclaim for Marathi-language features Pune 52, Baji and Godavari; and Afghan filmmaker Roya Sadat, whose 2017 A Letter To The President played at Locarno and Busan.
The selected filmmakers will pitch their projects to Indian and international producers, directors, programmers, financiers and sales agents at Open Pitch Online, which will be made available for delegates to watch in different time zones on the first day of Film Bazaar.
FILM BAZAAR ONLINE 2021: CO-PRODUCTION MARKET PROJECTS
Ashwamedh (The Sacrifice) (India, UK)
Language: Hindi
Director: Ridham Janve
Producer: Kate Baxter, Five Fifty Five
Bena (Seed) (India)
Language: Marathi
Director & producer: Nitin Dixit
Producer: Addinath M. Kothare, Storyteller's Nook
Blue (India, UK)
Language: English
Director & producer: Nilakshi Sengupta, Nilakshi Sengupta Communications & NSG Films
Bride Without Dowry (India, Germany, Sri Lanka)
Language: German, Tamil
Director: Jayakrishnan Subramanian
Director: Franziska Schönenberger
Producer: Maximilian Plettau, Nominal Film
Chevittorama (The Soul Whisperer) (Australia, India)
Language: Malayalam
Director: Leo Thaddeus
Producer: Stephen Zacharias, Stop Whinging
Producer: Vijay Jayapal, Tournage Productions
Producer: Harsh Agarwal & Aditya Grover, Uncombed Buddha Films
Deoka (Walking In The Air) (India)
Language: Assamese
Director: Dr. Bobby Sarma Baruah
Producer: Sulakhyana Baruah, Imaging Media
Ek Mutthi Badal (My Share of Sky) (Nepal)
Language: Nepali
Director: Sahara Sharma
Producer: Abhimanyu Dixit & Reecha Sharma, Gauthali Entertainment
Hashnouhana (The Strange Case Of A Divorce) (India)
Language: Bengali
Director: Debarati Gupta
Producer: Soumya Mukhopadhyay, Cherrypix Movies
Jolchhobi (Water Fresco) (Bangladesh, India)
Language: Bengali
Director: Tanha Zafreen
Producer: Mokhlesur Talukdar, Black Mirror Films
Producer: Ashutosh Mahapatra, Meta4 Films
Mathaka Wasthra (Memoria) (Sri Lanka)
Language: Sinhala, Tamil
Director: Dulanka Devendra
Producer: Rasitha Jinasena, Sky Entertainers
Mirpur Express (India)
Language: Hindi
Director: Aman Mahajan
Producer: Shankar Menon, Barking Beagle Films
My Mother's Nose (India, Singapore)
Language: English, Tamil, Telugu
Director: Aditya Thayi
Producer: Samir Sarkar, Magic Hour Films
Pankaali (The Partner) (India)
Language: Malayalam
Director: Nithin Lukose
Producer: Raj Rachakonda, Studio 99
Raavsaaheb (India)
Language: Marathi
Director: Nikhil Mahajan
Producer: Akshay Bardapurkar, Planet Marathi
Producers: Jitendra Joshi & Nehha Pendse Bayas, Filmosphere
Safa (Bangladesh)
Language: Bengali
Director: Maksud Hossain
Producer: Barkat Hossain Polash, Verite Films
Scotch (India)
Language: English, Hindi, Konkani, Portuguese
Director: Siddharth Tripathy
Producer: Asit Kumarr Modi, Neela Film Productions
The Arrangements Of Love (India)
Language: English, Tamil
Director: Philip John
Producer: Sunitha Tati, Guru Films
The Forgotten History (Afghanistan, Spain)
Language: Dari
Director: Roya Sadat
Producer: Alba Sotorra Clua, Alba Sotorra SL
The Secret In The Wind (Hungary, India)
Language: English, Hindi
Director: Chandradeep Das
Producer: Valentine Nonyela, Unified Entertainment Production
Producer: Anil Patil, Cliff Edge Films
Producer: Nikita Ivanenko
Producer: András Muhi, FocusFox
To Kill The One You Love (India)
Language: English, Kannada, Tamil
Director: Ashok Vish
Producer: Shaji Mathew, Niv Art Movies
Producer: Vinayak Nagesh