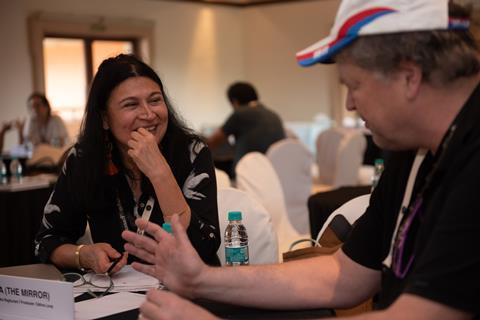 Film Bazaar, organised by India's National Film Development Corp (NFDC), has announced the 21 projects selected for the Co-production Market (CPM) of its 2020 edition, which will take place online next month (January 16-21, 2021) after being postponed from its usual November slot.
The line-up includes projects in 17 South Asian languages originating in India, Bangladesh, Nepal and Sri Lanka, as well as co-productions with Canada, China, Netherlands and France.
International collaborations include Onir's We Are, co-produced by India's Anticlock Films and Canada's Fae Pictures; India-Netherlands collaboration Dengue, directed by Prantik Basu and produced by Jan van der Zanden; Paromita Dhar's Last Time On Earth, produced by France's Yohann Cornu; and Pradip Kurbah's The Elysian Field, produced by China's JS Studio.
Other established filmmakers returning to Film Bazaar include Haobam Paban Kumar (Lady Of The Lake), who will present Manipuri-language project Water; and Anjali Menon (Ustad Hotel), with mixed language project Rasa; while Assam-based filmmaker Bhaskar Hazarika (Aamis) is turning producer with Shyam Bora on Subhadra Mahajan's English, Hindi and Pahadi-language Second Chance.
In addition to its usual awards, Film Bazaar has collaborated with the French Embassy in India, which is sponsoring the French Institute Award to be awarded to one selected CPM project.
Film Bazaar also announced the five projects selected for its Work-in-Progress (WIP) Lab, which in the past few years has yielded projects such as Ajitpal Singh's Fire In The Mountains, selected to premiere at Sundance 2021, and festival favourite Eeb Allay Ooo!
The annual event, which in non-pandemic times takes place in Goa, will also screen 195 films in its Viewing Room library, including 129 features and 66 shorts. Among these, 20 features will be highlighted in the Film Bazaar Recommends (FBR) section.
Knowledge Series will also take place online with a full programme of webinars, including pitches from the filmmakers selected for FBR and Co-production Market. The pitches will be available to watch in different time zones.
WORK-IN-PROGRESS LAB:
Today Me Tomorrow You (Aiz Maka Falea Tuk) [Konkani]
Dir: Sreejith Karanavar
Prod: Akshay Singh
Ambush (Ghaath) [Marathi]
Dir: Chhatrapal Ninawe
Prod: Manish Mundra, Jyoti Deshpande
PAKA - The River Of Blood [Malayalam]
Dir: Nithin Lukose
Prod: Raj Rachakonda
Powai [Hindi]
Dir: Kuldip Patel
Prods: Kuldip Patel, Neha Patel, Anish Shah, Jay Shah
Sikaisal [Tiwa]
Dir/prod: Dr. Bobby Sarma Baruah
CO-PRODUCTION MARKET:
How Long Is Tomorrow? (Baksho Bondi)
Bengali (India)
Dirs: Tanushree Das, Saumyananda Sahi
Prod: Naren Chandavarkar, Fiddle Leaf Film
Queen Doll (Bommainayagi)
Tamil (India)
Dir: Shanawaz Nizamudeen
Prod: Pa Ranjith, Neelam Productions
Dengue
Bengali, English, Hindi (India, Netherlands)
Dir: Prantik Basu
Prod: Jan van der Zanden, The Film Kitchen
Water (Eshing)
Manipuri (India)
Dir/prod: Haobam Paban Kumar, Oli Pictures
The Catch (Ghol)
English, Gujarati, Hindi (India)
Dir: Rishi Chandna
Prod: Dina Dattani
The Elysian Field (Ha Lyngkha Bneng)
Khasi (India, China)
Dir/prod: Pradip Kurbah, Pomu Fiilms
Prod: Jianshang Xu, JS Studio
A Hidden Tale Behind The Mist (Kuhiro Pariko Sahar)
Nepali (Nepal)
Dir: Pasang Dawa Sherpa
Prod: Prem Prasad Adhikary, Simal Cinema
Last Time On Earth
Hindi (India, France)
Dir: Paromita Dhar
Prod: Yohann Cornu, Damned Films
What Are You Doing Here, Alone? (Mokada Methada Thaniyama?)
Sinhala (Sri Lanka)
Dir: Shanaka Galagoda
Prod: Prasad Pereira, Againstlight Films
Moving Bangladesh
Bengali (Bangladesh)
Dir: Nuhash Humayun
Prods: Arifur Rahman & Bijon Imtiaz, Goopy Bagha Productions
My Home Is In The Hills
Kumaoni (India)
Dir: Arun Fulara
Prod: Munish Tewari, Nomadic Communications
Notun Gur (A New Sweetness)
Bengali (India)
Dir: Deyali Mukherjee
Prod: Sriram Raja, SRDM Motion Pictures
Rasa
English, Hindi, Malayalam, Tamil (India)
Dir: Anjali Menon
Prod: NP Prakash, Little Films India
Second Chance
English, Hindi, Pahadi (India)
Dir: Subhadra Mahajan
Prods: Shyam Bora & Bhaskar Hazarika, Metanormal Motion Pictures
Starfruits
Hindi (India)
Dir: Gourab Kumar Mullick
Prods: Umesh Vinayak Kulkarni, Arbhaat Films & Samir Sarkar, Magic Hour Films
The Bookkeeper's Wife
Marathi (India)
Dir: Bauddhayan Mukherji
Prod: Monalisa Mukherji, Little Lamb Films
The Shape Of Tiger
Nagamese (India)
Dir/prod: Kivini Shohe
Prod: Bhaskar Jyoti Das, Little Bit More
The Storyteller
Hindi (India)
Dir: Ananth Narayan Mahadevan, Ananth Mahadevan Films
Prods: Suchhanda Chatterjee & Shubha Shetty, Quest Films
We Are
Hindi, Urdu, English, Kashmiri, Kannada, Marathi, Bengali (India, Canada)
Dir/prod: Onir, Anticlock Films
Prod: Shant Joshi, Fae Pictures
What We Lost In The Fire
Bengali, Khasi, Nepali (India)
Dir: Yudhajit Basu, U Turn Pictures
Prods: Prithvijoy Ganguly, U Turn Pictures & Shiv K Kapur, Victoria Foundation
Writer
Tamil (India)
Dir: Franklin Jacob
Prod: Aditi Anand, Little Red Car Films