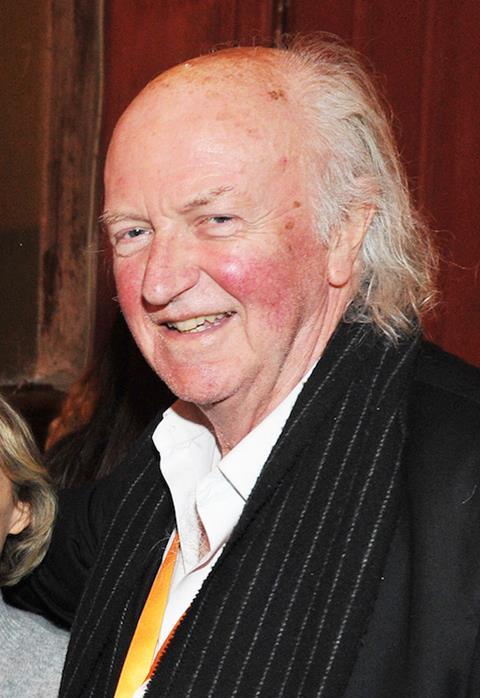 Tributes from many different sections of the film business have been paid to former Screen International and Moving Pictures editor Nick Roddick, who died on New Year's Day aged 73.
"I have to say for me he was a classic British rock and roll type of guy," Berlinale festival director Dieter Kosslick said of Roddick. "He looked a little like Abbey Road… He was very cool and he always had this humour I really liked."
Kosslick, who first met Roddick in the late 1980s, had one of his final meetings with the veteran British journalist at the Morelia International Film Festival (FICM) in Mexico. "It was a kind of reunion, like in the old times, sitting together at dinner and telling a lot of nasty jokes about a lot of people."
"He was not only a partner in business. He was really a friend. I am happy that I got to know his family – his wife and his daughter," Kosslick added.
In recent years, Roddick, who ran consultancy firm Split Screen with his wife Jo, had published the European Film Market catalogue at the Berlinale.
"The disappearance of Nick for me is also a disappearance of a part of my life," commented Beki Probst, founder of the EFM.
Probst called Roddick "one of the biggest professionals I ever met during those long years. He had access to everyone, everyone knew him. He was very respected."
Dennis Davidson, founder of PR company DDA, collaborated with Roddick on Preview Magazine (a quarterly magazine on films in production which Roddick edited). Davidson called him "one of the most knowledgeable of all the film journalists that I've worked with in my five decades in the industry. A real perfectionist and a great writer, he was a joy to engage with. [Roddick's wife] Jo deserves a huge credit for making this so. He will be missed by so many people, from all over the industry and well beyond."
Roddick lectured in Film and Theatre at Trinity College, Dublin, the University of Manchester, and California State University, Long Beach. He moved into journalism in the early 1980s.
Among the figures Roddick taught during his time at Manchester University was Tom Watt (later to become a household name in Britain as Lofty in TV's EastEnders). Watt, now an author, journalist and actor, called Roddick "the most important figure" he encountered during his time at university.
"I did spend a lot of time with him," Watt remembered. Roddick supervised Watt's final year research paper on the then little-known Polish director Walerian Borowczyk. "He [Roddick] committed to it and was incredibly supportive," Watt remembered. "He got what I was about. I remember him more than any other person at Manchester as being incredibly supportive and open. I have nothing but good memories [of him]."
At Manchester University, Roddick also taught comedians Ade Edmondson and Rik Mayall.
Film London report
Film London chief executive Adrian Wootton called Roddick a "lovely guy, a maverick and a man of very independent thought". The Film London boss also revealed the part Roddick played in the way that Film London evolved.
"Right at the beginning of Film London, we commissioned him to do a report which was incredibly useful when we were trying to change the whole framework of filming in London."
The Roddick-compiled report, which was confidential, provided a "pretty damning assessment" of the problems filmmakers were then encountering when they tried to shoot in London. "It was his work saying that the perception of London was as a difficult place to film, bureaucratic and slow, that led us to do so much of the work that we then did to put the filming in London partnership together. The code of practice for shooting in London was based on the initial research I commissioned from him which indicated how much needed to change."
Wootton also paid tribute to Roddick's journalism in Sight & Sound, London's Evening Standard and in Screen International and Moving Pictures.
"He was incredibly knowledgeable but also a great researcher. He produced on time, accurately, and he was never slipshod. He was incredibly professional but also a really fun guy to hang out with and to know."
Roy Boulter and Solon Papadopoulos. founders of Liverpool-based Hurricane Films, spoke of the help Roddick gave them as "relatively inexperienced" producers when they were launching Terence Davies' Of Time And The City in Cannes in 2008.
"Nick was just excited that Terence was making films again," Boulter remembered. "We would always seek him out at festivals [where he and Jo were always familiar faces]. My fondest memories of Nick are at the Utrecht co-production platform, where he was instrumental in what for me is one of the most valuable and enjoyable annual events. We are heartbroken to hear of his passing and send our deepest condolences to Jo and their family."
Amsterdam-based industry consultant Claudia Landsberger spoke of Roddick's popularity within the Dutch industry.
"When you saw Nick, it was always very reassuring that, OK, we are all here and it is all going to be fine. It had a little to do with his voice, which was always so calm," said Landsberger, also recalling the "kind authority" Roddick exuded when he was chairing industry sessions at the Netherlands Production Platform in Utrecht. "His cynical, sarcastic humour did very well with the Dutch," she added.
Chris Pickard, a fellow journalist at Screen International and Moving Pictures (which Pickard also edited), spoke of Roddick's cosmopolitanism – something which distinguished him from most other British film trade journalists.
"Nick was the consummate professional journalist and editor. He had an understanding of how international we all were. He was dealing with this massive network of correspondents all across the globe. He was a strong editor and knew what he wanted. He was also one of the editors who had the full international picture. You can't just think of what is happening in Britain or the States."
Former Moving Pictures journalist Mike Downey, now producer at Fame (London+Dublin) and deputy chairman of the European Film Academy, worked with Roddick at such publications as Stills, Cinema Papers, Screen International and Moving Pictures. He pointed to Roddick's gifts "as an editor without equal in the film trade business, creative, passionate, but much much more than that. He curated and mentored so many young writers and film professionals, who took what they learned from him and went on to great things."
One of his proteges, Christian De Schutter, currently manager at Flanders Image but who worked alongside Roddick at Moving Pictures, praised his "professionalism, his knowledge about film and the film industry, his analytical skills and his sense of humour."
Roddick was an author, academic, industry consultant and publisher as well as a journalist. Among his best-known books was A New Deal In Entertainment: Warner Brothers In The 1930s.
Jo Roddick wrote on Facebook earlier this week: "Nick waited till after the fireworks at midnight before he left us. We were all with him."