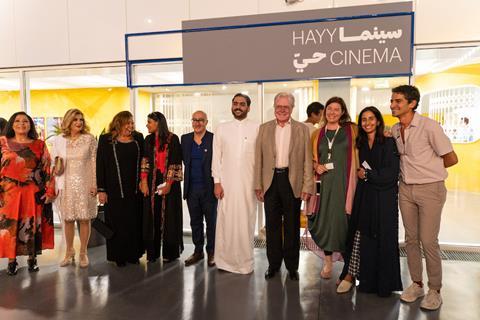 A major landmark in Saudi Arabia's cinema culture takes place today – the opening of the country's first independent cinema since the reintroduction of cinemas to the country in 2018.
The Hayy Cinema, part of the Hayy Jameel arts complex in the Al Mohammadiyyah district in the north of Jeddah, hosts two screens: a 168-seat main room and a 30-seat community screening room, plus a multimedia library and educational exhibition space.
The venue will play films similar to those at independent cinemas around the globe: Saudi, Arab and African films, combined with European, North and Latin American cinema. Patrons can expect the latest hot titles from Cannes and Venice, combined with programming from the region. It will also host film festivals, with planning underway for a Japanese film festival, and a season to cater to Jeddah's substantial Filipino community.
"People on the outside don't realise how urbane, well-travelled, curious and thirsty this audience that we have in Jeddah is," said Antonia Carver, director of the cinema's founding organisation Art Jameel, a non-commercial arts organisation that aims to nurture artists and filmmakers in creative communities. "It's a huge city, in which this is their one independent cinema."
It opens to the public today (December 6) following a celebration event last night, held in collaboration with the ongoing Red Sea International Film Festival (RSIFF). The first film to screen at the venue was Youssef Chahine's 1979 drama Alexandria… Why?, as part of a five-film retrospective on the acclaimed Egyptian director.
The opening event was attended by RSIFF representatives and guests, including Antoine Khalife, director of Arab programmes and Film Classics at the festival, who gave a short speech in Arabic.
Also present were architects from Jeddah-based firm Bricklab, who won the rights to design the Hayy Jameel venue following a blind submissions process; plus the cinema's co-curators Zohra Ait El Jamar and Yaser Hammad.
The opening night audience of over 100 guests included an even balance of men and women. Dressed in their finest garments, attendees were treated to a selection of local canapés, and were able to explore the entire Hayy Jameel complex, including an exhibition by Egyptian photographer Gamal Fahmy.
"This explosion in enthusiasm is incredible to see," said Carver. "It's infectious; it renews your hope in the future of cinema."
Future-proofing Saudi youth
The Hayy Jameel complex launched in 2021 as a multidisciplinary hub for the arts – the first space of its kind in Saudi Arabia, built for the arts community. It includes an arts block, museum space, artists studios, performance spaces, a library, an archives room – and now an independent cinema. It is 90% funded by philanthropy from the Jameel family, which owns diversified Saudi business Abdul Latif Jameel.
Carver says the goal of the complex and the cinema is "future-proofing Saudi youth, handing over creativity to young people to express themselves on their own."
"Jeddah and Saudi generally has a young, super-creative population," said Carver (in September, the country's ambassador to the US quoted a survey saying that 75% of the population is under the age of 35). "People have been sharing short films on YouTube and places like that straight to digital spaces for the last 30 years, without having that cinema analogue experience."
The opening of the country's first independent cinema therefore "feels like a really significant moment", with Hayy Jameel aiming "to show the great breadth and depth of global cinema – typical of an indie cinema you'd find in any city around the world."
"The difference is this is a home from home for Saudi filmmakers – a place where they can show works-in-progress, take masterclasses, scriptwriting workshops," said Carver.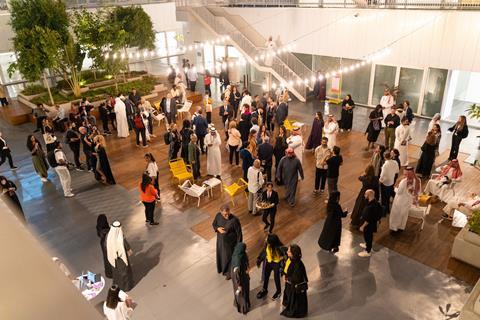 Carver says the venue will programme with Saudi cultural sensitivities in mind, while also taking the opportunity to widen perspectives in a country where even most multiplex cinemas have only been open for a year or two.
"There's the rule of law, which obviously we'll follow," said Carver. "Then there are sensitivities over subject matter for sure. What we've learnt over the years is if you want to broaden the audience for the arts, you need to start off by being as welcoming as possible to everybody from all walks of life.
"That means putting on a programme that is responsive and sensitive to the local community; then over time explore how that is opening up." Carver points to RSIFF and Jeddah's incoming Islamic Arts Biennale, which arrives next year, as inspirations for Hayy Jameel. "These are all bodies that are able to explore wide topics within the framework of being in Saudi Arabia."
The country continues to receive criticism for its human rights record, including for its treatment of women and LGBTQ people; it is still illegal to be LGBTQ in the country. "It's about being sensitive to context," says Carver. "It's very easy to sit in London, Paris, New York, Cannes or LA and point fingers at other countries. Each of those countries has its own context and own way of opening up.
"We're responding to the community here; we're a community-led organisation, we're providing a space for people to come and express themselves within the context of where we are. We wouldn't want to use the benchmark of somewhere else to do something here.
"This is not a spaceship; it's about building from the ground up."
As for welcoming international figures to the newly-opened cinema, Carver would love to invite French director Jacques Audiard, having experienced an audience "enraptured" by his 2009 crime drama A Prophet when she worked at Dubai Film Festival.
Spike Lee, who briefly attended RSIFF and recounted memories of shooting Malcolm X in the region, would be another dream guest. "It was super interesting to hear him as an American filmmaker relating that experience to his own filmmaking practice," says Carver. "The great privilege of working in this area is these connections are sometimes surprising. It's really a way of people communicating with each other."