Lionsgate's sequel to land in over 9,000 screens internationally, day-and-date with its domestic bow.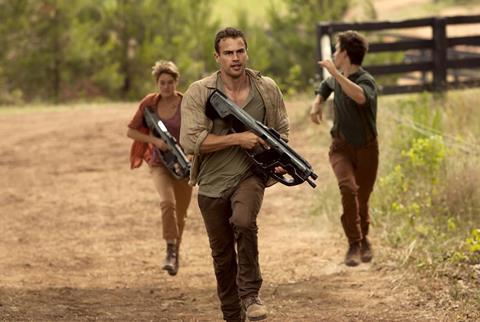 Lionsgate will unleash The Divergent Series: Insurgent in 76 overseas markets this weekend, day-and-date with its domestic bow.
The sequel is set to land in over 9,000 screens as it looks to outgross its predecessor's final $137.8m overseas haul.
Insurgent is opening this weekend in the majority of its territories apart from South Korea (March 25), Spain (April 4) and Finland (April 10), with releases to be confirmed in China and Japan.
Last week's belle of the ball, Disney's Cinderella, will look to add to its early $85.8m gross with openings in the likes of Argentina, Colombia, India, Korea, the Netherlands and Portugal, among others.
Big Hero 6 has opened in all of its international territories and has so far amassed $415.1m.
For Fox, Home lands in nine territories as it starts its international rollout in the likes of Australia, Russia, Spain and the UK.
The Second Best Exotic Marigold Hotel checks into 17 new territories and has grossed $31.6m as of March 18, while Night at the Museum: Secret of the Tomb opens in its final territory of Japan having unlocked $2357m overseas.
Sony's Annie dances into Russia and Ukraine with a international tally of $44m so far, as Chappie arrives in Israel after taking $33.8m after two weeks in play.
Following a confirmed $7.5m international bow from its 19 markets, Warner Bros opens Run All Night in Australia and South Korea.
Focus lands in France and Spain with an overseas haul of $58.1m as of March 15.
Universal's The Boy Next Door opens in 10 of its remaining 22 territories including Argentina, Germany and Spain, and has grossed $5.5m as of March 15.
Fifty Shades of Grey has now opened in all of its overseas markets and is currently the distributor's sixth highest grossing film of all time internationally.