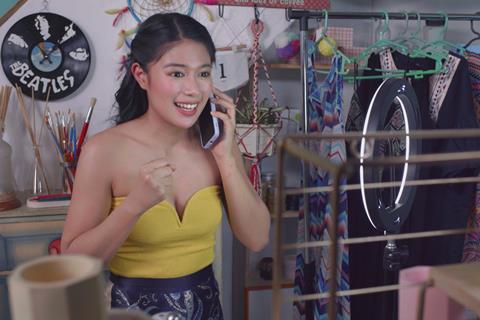 Chinese streamer iQiyi's international division launched six new Southeast Asian original series at the on-going Asia TV Forum & Market (ATF), including five from Malaysia and the company's first Thai original.
Singapore-based iQiyi International also announced that its first Korean production, My Roommate Is A Gumiho, was its most popular original of the year, racking up more than 100 million views worldwide. Viewership for its Chinese-language content was four times larger in 2021 in terms of viewing time globally, compared to last year.
The streamer's first Thai original, KinnPorsche, is directed by Kongkiat Komesiri, known for films such as Khun Phanand Slice, with Sumret Muengput (Halfworlds 2) on board as action choreographer. The story revolves around the heir to a powerful mafia family and his bodyguard.
The Malaysian originals include co-productions with leading Malaysian production houses such as Longhouse Films, MIG Production, Tsar Asia, Juita Viden and Infinitus Entertainment (see details below).
iQiyi also recently announced that it's working with Philippines media company ABS-CBN to produce two original Filipino series for a global audience – romantic drama Saying Goodbye, starring Andrea Brillantes and Seth Fedelin, and Hello, Heart, starring Gigi De Lana and Gerald Anderson.
"As the biggest advocates for Asian entertainment, iQiyi will continue to play our part to uplift the Asian entertainment ecosystem…on top of our already announced original productions from South Korea and Philippines, we hope these six original series from Malaysia and Thailand will become globally recognised and loved in 2022," said Kuek Yu-Chuang, iQiyi's vice president of International Business.
iQiyi Malaysian originals:
My Ofis – produced in collaboration with Longhouse Films, the story of a rockstar wannabe who chooses to support his grandmother by entering corporate life.
Rampas Cintaku – produced with MIG Production, the story of an undergraduate student desperate to clear his family's financial debts who starts working in a nightclub where he encounters a seductive business woman.
Sori Naik Lori – produced with Tsar Asia, the story of a housewife who becomes famous after her TikTok video goes viral, affecting her relationships and making her lorry driver husband insecure.
Love You Later – produced with Juita Viden, an original romantic drama revolving around the time travel of two lovers who must hold back from falling in love with the wrong version of each other.
Restu – produced with Infinitus Entertainment, about a recently widowed father who meets three marriage prospects but requires the challenging approval of his 9-year-old daughter who is still grieving her mother's death.