Nearly $150k raised by offering roles in the feature.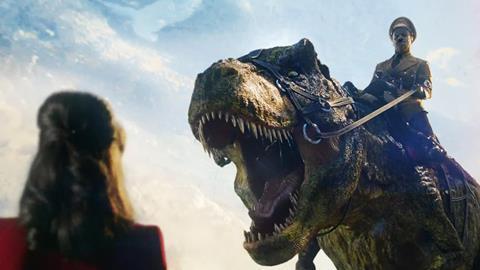 Finnish-German science fiction film Iron Sky: The Coming Race has completed its latest crowdfunding campaign, raising more than $500,000 on IndieGoGo.
More than 7,000 fans from 75 countries took part in the campaign.
"It's amazing to see fans support us so heavily", said producer Tero Kaukomaa. "This goes to show there's an audience out there waiting for original science fiction films and they're not afraid to show it."
The main source of funds in the campaign came from the offer of extra roles, which raised nearly $150,000 of the total amount from more than 300 fans. Parts ranged from citizens of a Moonbase to being eaten by a dinosaur, costing from $200 to $5,000.
"The extra roles are a fun way to engage our audience and to offer them a unique experience," said director Timo Vuorensola. "Filmmaking is an adventure and it is great to be able to bring our audience with us on that trip - how else would you have the chance to be eaten by a dinosaur on a major science fiction film."
During the crowdfunding campaign, over 300 fans signed up as extras for the film.
It is the latest boost to the budget of the forthcoming feature. In 2013, the film raised $182,000 for the script and promo development and $320,000 as crowd investments for the Iron Sky Universe company running the franchise. The latest addition takes the money raised over the $1m mark - making it one of the most financially supported crowdfunded films ever.
The campaign ends on Jan 4.
Currently in pre-production, it will be shot this year with estimated budget of $15m and is set to be released in 2016.
The Finnish-German co-production will be produced by Tero Kaukomaa of Iron Sky Universe (Finland) and Oliver Damian of 27 Film Productions (Germany).
Returing cast includes Julia Dietze, Stephanie Paul and Udo Kier while new additions include Tom Green and Finnish actor Kari Ketonen.
The first film, Iron Sky, posits that the Nazis set up a secret base on the dark side of the moon in 1945 and plan to return to Earth in 2018.
The sequel takes place 20 years later and moves the action to the centre of the Earth.