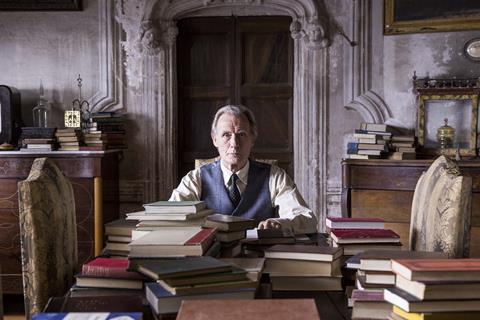 The Bookshop, starring Emily Mortimer, Bill Nighy and Patricia Clarkson, won best film, best director for Isabel Coixet and best adapted script at the 2018 edition of the Goya Awards given by the Spanish Film Academy on Saturday. Handia and Summer 1993 were the other two big winners of the night.
The Bookshop and Handia had 12 and 13 nominations espectively.
Isabel Coixet attended the ceremony in Madrid with the two co-stars of the film, Emily Mortimer and Bill Nighy, nominated for best actress and best supporting actor respectively. Her adaptation of the story by Booker Prize-winning novelist Penelope Fitzgerald, set in 1959s Britain, has been a success at the Spanish box office so far grossing €2.47m ($3m).
Isabel Coixet's win and the success of Summer 1993, directed by Carla Simón demonstrated a stronger female presence in the Spanish film industry in the wave of the #MeToo movement. The ceremony didn't directly address the topic, although audience members carried red fans with the logo #MasMujeres (more women).
Summer 1993 won best new director (a prize that Carla Simón can add up to her best first film award in last year's Berlinale), best supporting actor (for David Verdaguer) and best new actress (for Bruna Cusí).
The success of The Bookshop, shot in English, Summer 1993, shot in Catalan and Handia, in Basque, also represents the linguistic diversity of the Spanish film industry.
Handia, directed by Aitor Arregi and Jon Garaño won 10 awards. The film, inspired by the true story of a man who suffered from gigantism who lived in the Basque Country in the 19th century, won the Goyas for best original script, best new actor (Eneko Sagardoy), art direction, production design, cinematography, editing, special effects, original score, hair and make-up and costume design.
Black comedy The Author, by Manuel Martín Cuenca, won awards for Javier Gutiérrez as best actor and Adelfa Calvo for best supporting actress. Nathalie Poza won the Goya for best actress for the family drama No Sé Decir Adiós, by Lino Escalera.
Actress Daniela Vega went onstage to accept the award for best Ibero American film for A Fantastic Woman, Chile's Oscar entry. And Ruben Östlund's The Square won best European film.
The 2018 Goya winners
Best Film: The Bookshop (Isabel Coixet)
Best director: Isabel Coixet (The Bookshop)
Best New Director: Carla Simón (Summer 1993)
Best Original Script: Aitor Arregi, Andoni de Caños, Jon Garaño, José Mari Goenaga (Handia)
Best Adapted Script: Isabel Coixet (The Bookshop)
Best Actress: Nathalie Poza (No Sé Decir Adiós)
Best Actor: Javier Gutiérrez (The Author)
Best Supporting Actress: Adelfa Calvo (The Author)
Best Supporting Actor: David Verdaguer (Summer 1993)
Best New Actress: Bruna Cusí (Summer 1993)
Best New Actor: Eneko Sagardoy (Handia)
Best Cinematography: Javier Agirre Arauso (Handia)
Best Art Direction: Mikel Serrano (Handia)
Best Director Of Production: Ander Sistiaga (Handia)
Best Editing: Laurent Dufreche, Raúl López (Handia)
Best Song: La Llamada by Leiva (La Llamada)
Best Original Score: Pascal Gaigne (Handia)
Best Sound: Aitor Berenguer, Gabriel Gutiérez, Nicolas de Poulpiquet (Verónica)
Best Hair And Make-up: Ainhoa Eskisabel, Olga Cruz, Gorka Aquirre (Handia)
Best Wardrobe: Saioa Lara (Handia)
Best Special Effects: JOn Serrano, David Heras (Handia)
Best Animated Feature: Tad The Explorer 2 (Enrique Gato, David Alonso)
Best Documentary Feature: Lots of Kids, A Monkey And A Castle (Gustavo Salmerón)
Best European Film: The Square (Ruben Östlund)
Best Ibero American film: A Fantastic Woman (Sebastián Lelio)
Best Fiction Short: Madre (Rodrigo Sorogoyen)
Best Documentary Short: Los Desheredados (Laura Ferrés)
Best Animated Short: Woody And Woody (Jaume Carrió)
Honorary Goya: Marisa Paredes