ITV's pre-tax profits have surged by 39% to £605m in 2014 following a strong performance from ITV Studios and healthy advertising and online growth.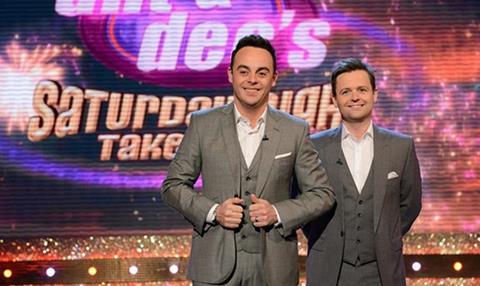 The commercial broadcaster reported total revenues of £2.96bn for the 12 months to 31 December 2014, up from £2.75bn the previous year. Its pre-tax profits in 2013 stood at £435m.
ITV's earnings before interest, tax, depreciation, and amortization (EBITDA) grew £110m, or nearly 18%, from £620m in 2013 to £730m in 2014.
ITV benefited from a growth in advertising revenue fuelled by the 2014 World Cup, with a 6% increase year-on-year to £1.62bn. Non-advertising revenue experienced double-digit growth, up 10% to £1.32bn, accounting for 45% of the broadcaster's overall turnover.
It means ITV is on course to just miss a five-year target set by chief executive Adam Crozier in August 2010 to secure half of its revenue from sources other than traditional advertising.
During a conference call Crozier explained that the "strong advertising market" was responsible for ITV not reaching its goal, but revealed that growth in non-advertising revenue had grown by 37% from a figure of £829m in 2010, leaving ITV in "much better shape" and less dependent on the ad market.
Analyst Liberum Media said the results were "positive on several fronts", while Numis praised the "very strong" performance.
ITV Studios performance
The broadcaster's production arm ITV Studios posted revenues of £933m, rising 9% from £857m in 2013. The performance was largely driven by acquisitions with US productions accounting for £235m of the overall figure on the back of purchases such as Leftfield Entertainment. ITV Studios EBITDA hit £162m - up from £133m in 2013.
The production arm's internal revenues – the money made from selling shows to ITV – stood at £366m last year. This was marginal increase on last year's turnover of £364m.
Online, pay and interactive revenues grew by 30% from £118m in 2013 to £153m in 2014, with on-demand viewing up 26%, bolstered by an expansion of ITV Player across devices including Windows Phone 8 and Amazon Kindle Fire.
Viewing share was down 5% across ITV's portfolio of channels to 22%. This was primarily attributed to a 4% decline to 15.6% of viewing share on its main channel, despite the presence of World Cup football.
Crozier pointed to upcoming dramas such as Jekyll & Hyde, Home Fires and The Trial of Jimmy Rose as potential catalysts to halt the decline.
"For 2015 we're confident of further good revenue growth in all parts of ITV. In ITV Studios we'll again see upside from our acquired businesses as well as a return to good organic growth as we continue to invest in creative talent and content," he added.
"ITV is now a more balanced business with strong underlying cash flows. As we enter the next phase of our strategy we continue to see investment opportunities to grow the business and enhance shareholder value but at the same time the board recognises the importance of maintaining capital discipline and balance sheet efficiency."
The broadcaster said it will pay a special dividend of £250m to shareholders, or 6.25p a share.