Skiptrace beats Tarzan and records Chan's biggest opening weekend as Cold War 2 nears $100m.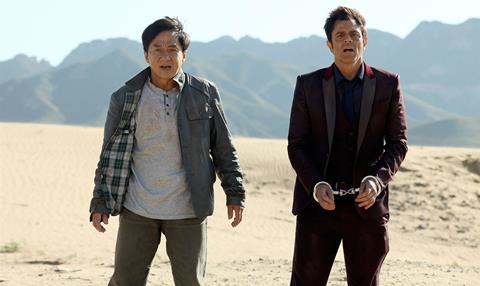 Jackie Chan's latest film Skiptrace leapt to the top of the Chinese box office in the week of July 18-24, taking $60.82m over its first four days. The action-comedy directed by Renny Harlin, which also stars Johnny Knoxville and Chinese actress Fan Bingbing, accounted for approximately 41% of the week's box office.
The last local film that debuted better than it was Ip Man 3 in early March.
Skiptrace also delivered the biggest opening weekend for a Chan film, which has once again proven that the ageing star still wields great clout at the Chinese box office. His recent box office hits in China include Dragon Blade and CZ12.
In second place was The Legend of Tarzan with $27.28m from its first six days. Warner Bros' adventure reboot clung on to the top spot on its first two days of release (Tuesday and Wednesday), but was pushed to second place when Skiptrace opened on Thursday.
Cold War 2 fell to third place with $11.03m in its third week after keeping the box office crown for two weeks. The Hong Kong thriller, which collected $96.94m after 17 days, has become the seventh-highest-grossing Chinese film in 2016.
Close behind in fourth place was Big Fish & Begonia with $10.85m. The local animation performed strongly at the box office as it overtook Cold War 2 from Thursday onwards. With $79.84m after 17 days, it has become the fifth-highest-grossing animation overall in China.
Japanese animation Doraemon: Nobita And The Birth Of Japan, the only non-Chinese language title in the weekly top 10, debuted with $8.04m from its three-day opening weekend. It paled in comparison to the last Doraemon film, Stand By Me Doraemon, which grossed a record-breaking $38.29m in four days last June.
One Night Only, the fourth and last new entry of the weekly top 10, opened in eighth place with $3.72m from its three-day opening weekend. The romance drama marks the directorial debut of Taiwanese actor Matt Wu and stars Aaron Kwok as a gambler and Yang Zishan as a prostitute.
The rest of the chart was filled by Chinese holdovers - When Larry Met Mary in fifth place with $9.38m for $25.76m after 10 days; Never Gone in seventh place with $3.92m for $49.95m after 17 days: Tik Tok in ninth place with $3.37m for $11.22m after 10 days; and For A Few Bullets with $1.73m for $7.83m after 10 days.
Last week's box office picked up approximately 1% thanks mainly to Skiptrace, after dropping approximately 17% two weeks ago. More Chinese films are scheduled for the theatres, including At Café 6 (July 28), League Of Gods and Girl Of The Big House (both on July 29), with a non-Chinese title Triple 9 on July 27.