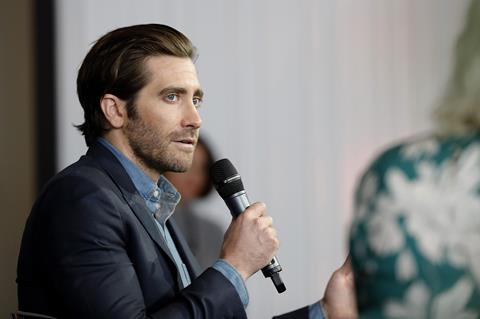 Jake Gyllenhaal says his new production company is "full steam ahead" as its first production, Stronger, hits cinemas.
Gyllenhaal, speaking at a Zurich Film Festival press conference, said of Nine Stories, the New York-based production company he has launched with producer Riva Marker: "We are ambitious, we have many projects already in development, we shot two films already – this one [Stronger], and also Paul Dano's directorial debut, called Wildlife with Carey Mulligan. And we have a wonderful deal with Bold Pictures, which finances our company. They make very interesting pictures."
The company has its first-look deal with Bold currently running through 2020. Projects coming through the pipeline at Nine Stories will include Michael Showalter's The Last Ride of Cowboy Bob, Denis Villeneuve's The Son, and Luca Guadagnino's Rio.
Stronger was the first production to come through Nine Stories (with partners Bold, Lionsgate, and Mandeville), with Gyllenhaal producing alongside Todd Lieberman, David Hoberman, Michel Litvak and Scott Silver (Marker is one of eight executive producers).
The true story of 2013 Boston Marathon bombing survivor Jeff Bauman and his family was a passion project for Gyllenhaal for several years, even before director David Gordon Green came on board.
The actor said, "When I read [John Pollono's script] what I loved about it was this man, this manboy, was known from this photograph that was strewn across newspapers around the world…When I read the script it went into the depths of his personality, the complexities of it, and also his sense of humour."
Screenwriter Pollono had spent 18 months meeting with Bauman and his family and friends when writing the script, and then Gyllenhaal also spent time with them ahead of production. "For me it's microscopic work, I spent another year with Jeff and getting to know his family… It was watching behaviour… Jeff's not the most forthright person, particularly in Boston they aren't known to be very talkative, so it was more about watching him, and also seeing the medical community around him. It was time, lots and lots of time. "
Gyllenhaal says Bauman is "I human being that I admire so much. I know if I was put in the position he was in, I probably wouldn't have survived. It's someone who you know is stronger than you. And this is a group of people who are in it for something other than a movie."
In Zurich speaking a day after the Las Vegas shootings, and asked about the importance of finding a positive story to tell about the Boston bombing, Gyllenhaal added, "In a world where we're rushing around and doing a lot of things, we are not always paying attention to those simple things. It's giving the small moments the positivity they deserve. That's what this movie is about. Today, yesterday, 10 years ago, 100 years from now, I don't think positivity is going away even though sometimes it feels like it. It's essential."