Corden joins company behind sports docs I Am Bolt and Class Of 92.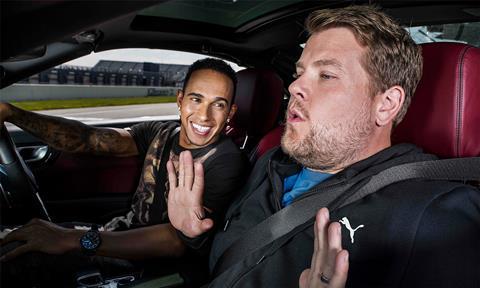 James Corden is to join London-based production company Fulwell 73 as a company partner.
He will join existing partners and founding members Gabe Turner, Ben Turner, Ben Winston and Leo Pearlman with immediate effect.
Formed in 2007, Fulwell 73 projects include the recent Usain Bolt film, I Am Bolt; Class Of 92, starring David Beckham, and BBC One's Mo Farah: Race Of His Life.
The Fulwell 73 partners have worked with Corden for the last 15 years on a variety of projects, including James Corden's World Cup Live, Comic Relief's Smithy sketches, When James Met Robbie, When Corden Met Barlow, One Direction projects (including This Is Us), Samsung and Cadburys commercials, the recent Apple Music commercial featuring James Corden, Pharrell and Jimmy Lovine and The Late Late Show With James Corden.
As well as opening an office in LA in July 2016, Fulwell 73 recently signed a development deal with CBS Television Studios, with whom they co-produce the Emmy Award-winning The Late Late Show With James Corden.
Fulwell 73 (in conjunction with CBS Television Studios) will also produce the new series Carpool Karaoke for Apple Music and Drop The Mic for TBS.
Corden is set to host the 59th Annual Grammy Awards on February 12 in LA.
Corden said: "In many ways I've felt like an unofficial partner for many years, and now that it's official I feel incredibly proud to have joined this incredible company. In Gabe, Ben, Leo and Ben, I feel I'm working with the most vibrant, passionate, talented directors and producers I've ever met. Watching Fulwell 73 have such phenomenal growth over the past decade has been inspiring to watch. I feel lucky and proud to be part of it and I'm excited to see what we can achieve together."
Leo Pearlman added: "James joining as the fifth partner feels like the most natural and obvious step for all of us. He has been a good friend, key creative influence and talent we have turned to time and time again and the chance to formalise our relationship with him was a chance too good to pass up. We all believe Fulwell to be a far greater company with his involvement and look forward to many years of working with him in the future."